There's no time like the present to tackle your biggest New Year's resolutions
It's never too early to start planning your 2020 vacation to SLO CAL. After all, this is the place where time slows down and dreams are finally realized. Whatever your resolution—to be more adventurous, to expand your palate, or just unplug for a weekend with the ones you love—we have you covered. With more flights arriving and departing from The SLO Regional Airport than ever—including direct flights from Seattle, San Diego, Portland, Denver, Phoenix, Las Vegas, Denver and Dallas-Fort Worth, you can plan on slowing down in SLO CAL in no time.
Resolution: Experience the California Dream
There are many reasons to visit SLO CAL, but one of the most popular is to take advantage of as many beach days as possible! That means sun, surf and your toes wiggling freely in the sand. No matter where you live (or your current weather) you can slip on some flip flops, grab a towel and stake your own spot along SLO CAL's unhurried coastline. From the rugged coastline of Cambria (where you can hunt for moonstones on the beach) to the protected bay of Avila Beach (where standup paddle-boarding is a popular way to while away the hours), there's a SLO CAL beach for everyone. Get ready for less deadlines, more tan lines.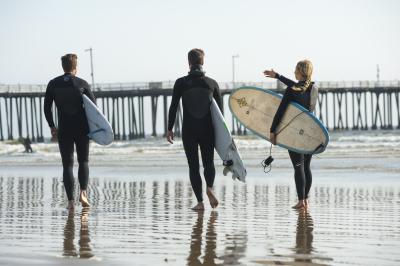 Watch: This January 30-February 2, you can catch the SLO CAL Open at Pismo Beach and experience what the Beach Boys sang so passionately about. Better yet, catch both surf competitions with the SLO CAL Open at Morro Bay from February 27-March 1. Morro Bay has been known for its incredible surf culture. Now you can take part in this California tradition, too. Hang ten, dude.
Eat: Morro Rock might be the place to be when the pros take to the waves, but when your tummy begins to grumble, head for Morro Bay Oyster Company, which has just released its new premium oysters dubbed "The Pacific Gold Reserve." According to owner Neal Maloney, these oysters are sweeter than other oysters because they're tumbled naturally in the tide. Top chefs like New York's Daniel Boulud and LA's David Lefevre are serving them at their high-end restaurants, too! Find these morsels at local restaurants and fish markets around town or at Morro Bay Oyster company's new retail space on the Embarcadero.
Resolution: Upgrade your Campsite
You've seen the tantalizing trend of glamping (also known as "glamorous camping") catch on across the country in magazines and on Instagram. Don't stand on the sidelines. Make this year the year you are going to get out there and enjoy the great outdoors—with style! Turn your FOMO into action and glamp with the best of them at Cava Robles RV Resort.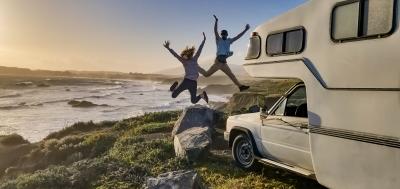 Camp: Cava Robles offers luxury RV and camping glamping to wanderers of all kinds. With scenic campsites nestled in the heart of Paso Robles wine country, you'll find remarkable cottage rentals and full RV hook-ups where guests can experience access to resort amenities while enjoying SLO CAL's legendary weather and scenery. Two outdoor pools, walking trails, and on-site wine tasting make this pet-friendly RV resort perfect for the whole family.
Provisions: So you've arrived in SLO CAL, but you're wishing you had brought XY and Z for your weeklong trip. A canteen? A pair of hiking boots? No worries! Just stop by the newly opened San Luis Obispo REI, which sells all the sporting goods, gear, travel equipment and all the outdoorsy clothing you could ever need for your rugged (or not so rugged) outdoor adventure. You'll also find services such as outdoor-oriented vacations and courses as well as gear rentals and a bike shop.
Tip: Make sure you check out the beaches available in SLO CAL so that you can wake up to the sound of waves and smell of the sea. Honestly, is there anything more invigorating than having your morning cup of coffee on the beach? With the splendor of the coastline at your feet, you can relax on the sand, grab a quick picnic lunch, and head out to uncover all the coastal SLO CAL sights and activities nearby. Hiking, kayaking, fishing and numerous other outdoor excursions are just a campsite away.
Resolution: Drink more Craft Beer
Life is too short to drink boring beer. SLO CAL is the latest region in California to experience a craft beer explosion, and you can bet you'll find your next favorite IPA, lager, sour or hazy right smack dab in the middle of wine country! With dozens of craft breweries to choose from—including microbreweries producing small batch rotating taps and larger beer establishments with beer gardens, food trucks and regular live music—there is a craft beer experience for every taste. Don't forget to take a few growlers, crowlers or cans home with you! Better pack that cooler. Everyone back home is going to want a frothy souvenir.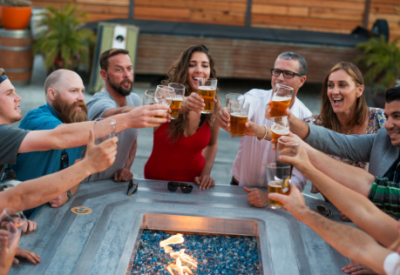 Taste: Humdinger Brewing is the newest addition to Arroyo Grande's cool craft beer scene (also home to popular Figueroa Mountain Brewing Company). This new craft brewery focuses on IPA-forward beers but will also serve up some lagers in 2020. The Humdinger was created by two brewers, Lee Samways and Justin Amy, who met through local home-brewing clubs. Come taste their dreams realized! This is what happens when one resolution meets another.
Family fun: Looking for a super casual, family-friendly brewery to bring the whole fam for a long afternoon of sun, sipping and tunes? The Backyard in Paso Robles is slated to open in 2020 and features 24 taps of craft brews. Plus, with corn hole, shuffleboard and a kid's game area, everyone's invited to hang.
Resolution: Find Your Foodie Footing
We can all fall into ruts throughout the year: music ruts, workout ruts, Netflix ruts. If you find yourself in a culinary rut—eating the same thing from the same restaurants or cooking the same old so-so recipes—SLO CAL has just the dish to get your tastebuds back on track. With diverse restaurants and exciting coffee and cocktail creations to explore, you'll soon find yourself immersed in a world of fresh flavors from morning to night.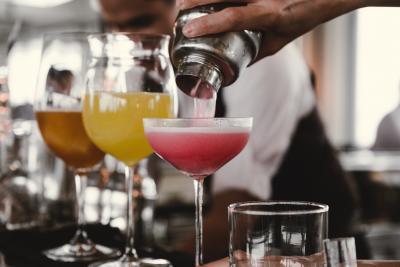 Coffee: Coffee and chill. You don't have to be a coffee snob to order a hot cup at WithCo Coffee. The newly opened java hangout located in San Luis Obispo's booming Creamery Marketplace is ground zero for single-origin coffees, all of which rotate throughout the year. You can also pick up a cup of chia pudding or an amazing fresh-baked pastry while you're at it. Marvelous mornings start here.
Dine: Located just a stone's throw away in San Luis Obispo's Creamery Marketplace, you'll also find Mistura Restaurant, offering up unique Peruvian dishes that are sure to expand your culinary knowledge to new parts of the globe. Explore modern gastronomy with a constantly evolving and eclectic menu that features sustainable, local and native ingredients all with a Peruvian twist. Looking for a sophisticated spot to nibble small plates paired with local libations? Follow the canopy of colorful hanging umbrellas at LaDonna's in Atascadero.
Nightcap: One last drink before you head off to bed? Stop by Nightcap, an exclusive cocktail lounge at Granada Hotel & Bistro in San Luis Obispo featuring exquisitely crafted cocktails, bites, and sipping spirits. Better yet, hotel guests receive convenient access to the lounge throughout their entire stay. Just saying!
Resolution: Explore Wine Country
Wine Country isn't as far away as you might think. With two renowned wine regions at your fingertips—Paso Robles to the north and SLO Coast Wine region the south—plus, lots of incredible tasting rooms in Avila Beach, Arroyo Grande, Atascadero, Templeton and San Miguel to name a few, your next great glass is just around the corner. With these exceptional tasting experiences come stellar vineyard tours, behind the scenes classes and winery stays, too. So, what shall it be? Red, white or something in-between?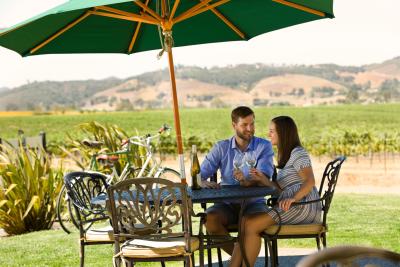 Stay: Live like a winemaker without any of the work. Check into Onx Wine at Kiler Canyon Vineyard in Paso Robles and you'll spend your days surrounded by lush vineyards as far as the eye can see. Opening February 2020, the property is perched atop a scenic hillside overlooking all of Kiler Canyon (this is worth a panorama photo for sure). With this view, you can really get down to appreciating the simple joys in life. Like, for instance, sipping and swirling.
Gather: MarFarm in Edna Valley also offers up a dreamy locale for your next wine country excursion—especially if you've gathered a gaggle or are planning a party or reunion. This spacious vacation rental and event space located in the heart of SLO Coast Wine region is part of SLO Brew's family of hospitality offerings. Experience the history of the property which dates back to the 1800s, alongside plenty of modern embellishments (the converted dairy barn and horse stable is now a stunning event space you've just got to see to believe). Plus, you're conveniently located near dozens of fabulous SLO Coast Wine tasting rooms!
Taste: Templeton exudes small-town charm, but the wine grown in this dynamic soil is truly world-class. Kula Vineyards is a charming family-owned vineyard, winery and tasting room with big flavors in store for you. What started as a grape growing operation—selling Syrah to some of Paso Robles' most well-known wineries—has become a new venture grown from the rootstock up. Sip small-production, single vineyard, and single varietal wines that fully express the Templeton region. What better way to get to know an area?
Resolution: Do Something Adventurous
SLO CAL is the perfect place to shake off those winter doldrums and renew your perspective on the world. Life is meant to be lived fully, so fill up your cup in SLO CAL. Now is the time to dive headfirst into new experiences that truly push you out of your comfort zone and into a world of beauty and culture. Yes, you will have to get off your couch to do this. But we promise—it will be so worth it!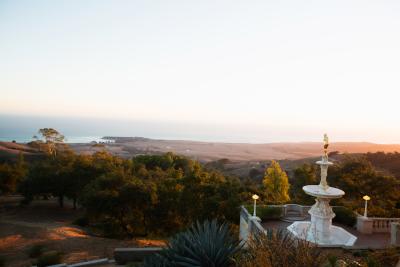 Marvel: Cruise beautiful Highway 1 to San Simeon's enchanted house on the hill: Hearst Castle. There's a reason that visitors from around the world flock to the castle (to experience the late newspaper magnate's enviable lifestyle and wonder at his impressive collection of 14th to 17th century fine and decorative European art, yes). But did you know that one of Hearst's most opulent pools has recently been restored to stunning glory? Yes, the Neptune Pool—the ornate centerpiece of the sprawling grounds—is back after four years under construction. See the pool in all of its splendor in the New Year. Plus, in 2020, Hearst Castle will celebrate its 100th anniversary! You can get in on the celebration by taking part in a host of unique events rolling out in the new year. These are not simply tours—they are exclusive chances to get up close and personal with one of SLO CAL's most memorable monuments.
Paddle: Bust out the sunblock and make a break for the water. Yes, we're talking about SLO CAL's newest aquatic attraction, Estero Adventure. Imagine commandeering an electric pontoon boat with your best buds. You'll spend the day floating around Morro Bay's scenic harbor, where seals and otters are known to pop up to say, "hello." Totally silent and with minimal environmental impact, the boats seat up to eight people for a relaxing ride around the bay—plus, protective roofs and adjustable panels allow for a truly chill ride. Reserve your rental at the Estero Inn (boats launch from the hotel dock). Kayaks and paddleboards are also available for hourly rental. The only question to ask now is, which seven friends are you going to invite along?