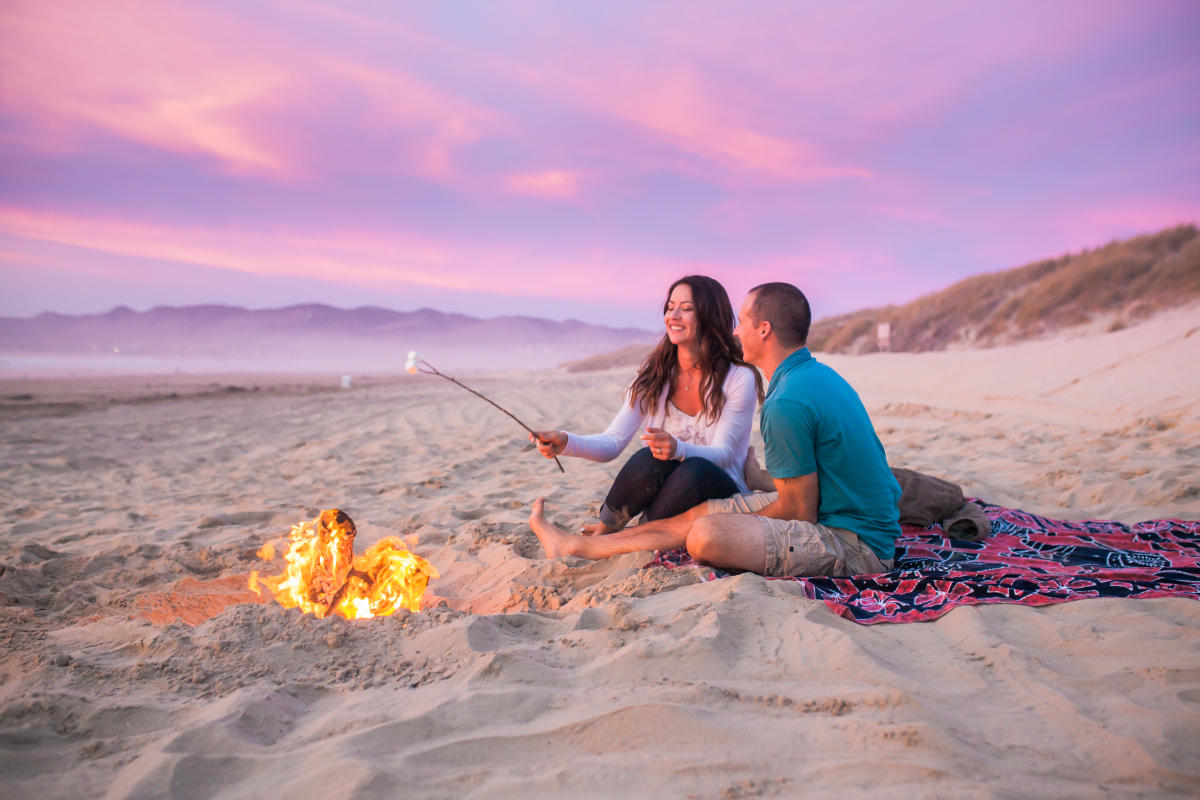 Fall in love with SLO CAL this February. Spend your Valentine's weekend exploring San Luis Obispo County's glistening coastline, in a scenic vineyard or atop a grand vista. Bring along your significant other and even your little cupids because there are so many ways to fall back in love in SLO CAL. Located midway between Los Angeles and San Francisco along California's iconic Central Coast, get away and discover your passion for the outdoors, delicious food, wine and artistic culture.
Romance In Bed
Who says you need to do anything this weekend? Hole up with your loved one in any of these romantic getaways to have your every need catered.
Cambria
Second best to the nearby hillside estate of Hearst Castle (which has been closed during the COVID-19 pandemic), Cambria Pines Lodge, which is offering a Valentine's Package from February 12-14. Enjoy a three-course dinner for two with a bottle of wine before strolling the luscious gardens and nature trails while you pine for a lovely breakfast the next day. 
San Luis Obispo
Hotel Cerro's Downtown escape helps you fall in love (or stay in love) with their year-round Put A Ring On It package, including a $50 property credit and 15-percent off your stay. Hotel Cerro has freestanding bathtubs and in-room fireplaces offer an oasis from the hustle and bustle of life. Add their five-course dinner option to set the mood on Feb. 14-15. The lovely "European charm in the heart of San Luis Obispo" Bed and Breakfast, Petit Soleil will re-open Feb. 5 to a magnificent Valentine's Day week with patio and courtyard dining and room availability. Book any two days between Feb. 11-14 and receive a bottle of wine, two wine glasses, and sweet treats to enjoy with your sweetie. The cupids may be made of bronze across town here at the Madonna Inn, but their arrows are sharpened for your visit. Enjoy room add-ons, such as roses, champagne, chocolate and more. Behind each door is a surprise, with each themed room offering a unique, over-the-top layout. 
Atascadero
Similarly, in Atascadero, Holiday Inn Express & Suites will offer you a chance to get cozy with their Romantic Escape package, offering proximity to the Paso Robles and Central Coast wine regions. A fully renovated room, sparkling wine, fresh flowers and locally crafted Mama Ganache chocolates await you. A hot breakfast and late check-out are included! 
Avila Beach
If wine country isn't enough, try out Sycamore Mineral Springs private hot tub rooms, filled to the brim with whatever degree water you specify. Their hillside hot tubs are open to the public to reserve for the pleasure of soaking in naturally heated mineral spring water. Nothing says California winter like a bathing suit in the forest. 
Is Food your Love Language? 
Sweet tooth? Vegetarian? Gluten-Free? SLO CAL is your home away from home—your one-stop shop for all things down-home and decadent.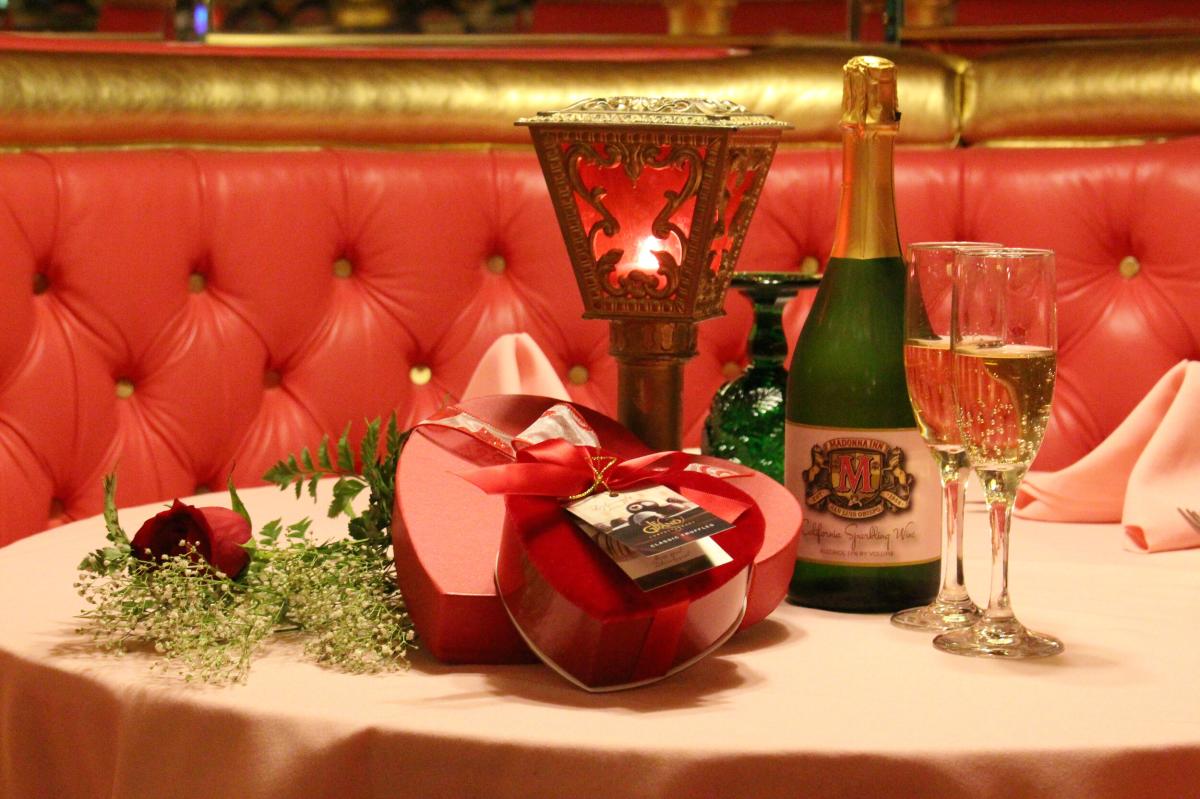 San Luis Obispo
Valentine's Day dinner pre-orders will be available from the Madonna Inn kitchen from Feb. 13-14, with the full menu for take-out or Gold Rush Pavilion dining. Don't forget to end with a slice of pink champagne cake or better yet, heart-shaped sugar cookies available throughout February in the bakery. Their cocktail special is Cupid's Kiss, Re:Find gin, Domaine de Canton, lime juice, raspberry simple syrup and ginger beer. Fill up on one of the most luxurious dinner options this Valentine's Day in SLO CAL with Hotel Cerro. Brasserie SLO's dinner for two is a five-course delight, Feb 13-14, including artichoke soup, red fettuccini pasta, and shrimp or beef tenderloin, finished with a chocolate tart for two. Local bottles of wine, custom cocktails are all available. Across town in San Luis Obispo is to-go king SLO Provisions. Their extra special Valentine's Day dinner for two take-out package will contain a three-course spread with a vegetarian option. Start off with crab cakes with a tarragon remoulade, followed by ossobuco with smoked cheddar corn polenta and a decadent dessert featuring a trio of tarts. Chocolate covered strawberries and a bottle of French sparkling wine to complete the festive package. The last day to order is Feb. 8 for pick-up Feb. 13. Karson Butler Event's outpost, Ah Louis Store, has partnered with Cured And Cultivated to bring you heart-shaped salami. That's right, a special cheese and charcuterie offering for Valentine's Day comes in a 9" ceramic heart platter surrounded by delightful fruits and nuts. Take a minute to stroll around this store's wild selection of decor goods, but arrive early so you have time to decorate with whatever items you're sure to find.
Paso Robles
If the Ah Louis Store's array of dazzling V-day decorations needs a counterpart in the kitchen, lucky for you, they partnered with Just Baked for some lovely boxes and tantalizing treats to impress your loved one's visual senses and sweet tooth. While up in Paso Robles, you may want to take your 21+ partner on chauffeured tour. Consider SLO Safe Ride's Chrysler 300c, Mercedes Sprinter LandJet or their electric blue Tesla S. You'll select two wineries from over 250+ in the acclaimed Paso Robles wine region, and conclude the day with an optional dining experience in downtown Paso Robles. The tour includes complimentary chocolates with additional customizations available. Whether you're at Justin Winery's downtown tasting room or out at their Adelaida estate, the nationally distributed winery is offering a tasting flight of wines paired with a stunning selection of handcrafted chocolates made exclusively by their pastry chef. You just might want to ask if your SLO Safe Ride will include this on your drive around the Paso Robles countryside.  
A Family Affair
Romance month is the perfect time to show the kids your love for family-friendly getaways. 
San Luis Obispo
If you wander to downtown San Luis Obispo, be sure to check out the Mission Plaza, which is all set up for selfies galore with a themed outdoor walk-through exhibit. Bring the kids, especially after dark, to enjoy the lights and decor after you've hiked the many hills in SLO.
Paso Robles
Speaking of after dark – Sensorio Paso's stunning exhibit, illuminating fields of light in Paso Robles, plans to re-open from the Covid-19 lockdown soon. They offer Valentine's Day gift cards for a perfect romantic getaway to cuddle up under the stars and above the flickering hills.
Morro Bay, Cayucos, San Simeon
Spend a day discovering the tide pools at Montaña de Oro, or playing with your four-legged friend at the dog beach in Cayucos. Elephant seals in San Simeon or take to the water on a paddle board to explore the harbor in Morro Bay
Pismo Beach, Avila Beach
Take out a kayak in Avila Beach, where you can adventure to Point San Luis Lighthouse or paddle the surf in Pismo Beach, where you can also visit the Monarch Butterflies to bring a sense of delight to all. End your day with the warm crackling of a beach bonfire on Port San Luis, combined with the fresh ocean air as you divulge in local artisan goodies and products.
Adventures are Endless in SLO CAL
Perhaps for the more adventurous, we could entice you for a trail ride with Central Coast Trailrides or soar on a zip line in Santa Margarita. And get your hands in the dirt to reconnect at a local farm with tours and you-pick activities. Any way you choose to celebrate the most romantic month of the year, look to SLO CAL to be there for you; high in the sky or down at sea level.