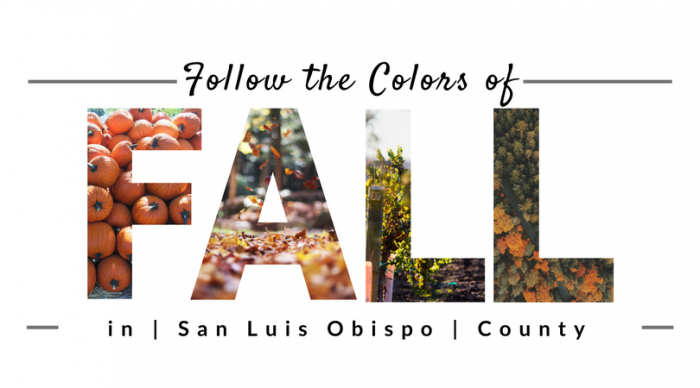 The weather might not be changing all that much, but the leaves are always a tell-tale sign that fall is here. Hop in the car, pack a picnic and spend the day enjoying the changing season in San Luis Obispo County. Here's our list of places to enjoy yellow, orange, and red leaves this fall.
Montaña de Oro State Park
Montaña de Oro is absolutely beautiful no matter the time of year, but there's something about this time of year and the way the sun hits the landscape a bit differently. Whether you choose to jaunt out on foot following one of the many hiking trails or view the golden sunset from the beach or cliff, the crisp autumn air will welcome you.
Highway 41
Whether you choose to take Highway 41 west to Morro Bay or east towards Creston and Shandon, this scenic drive is packed full of scenic twists and turns. Don't forget to stop and grab some Morro Bay avocados on your way!
Highway 46 West
Not only is Highway 46 West in Paso Robles a scenic and beautiful drive to the coast, it's also home to rows upon rows of vineyards. It's currently harvest time in Paso Robles wine country which means it's the perfect time to take a scenic (and perhaps tasty) drive to see the changing leaves in action. In San Luis Obispo County, there's nothing that screams fall like the changing colors of a vineyard.
Highway 58
In the springtime, Highway 58 is brimming with a sea of white, yellow and purple wildflowers. If you come back towards the end of the year, this area boasts golden yellows, rustic reds and burnt orange. You can either follow Highway 58 through the town of Santa Margarita all the way out to Lazy Arrow Adventures or you can take Highway 229 and head north towards the small town of Creston, just east of Paso Robles.
See Canyon Road
Not only is See Canyon Road lively with its fall colors but it's teeming with fall favorites like hard and non-alcoholic cider tasting, apples, wine and local honey. Get off on San Luis Bay Drive as if you're going to Avila Beach, turn right onto See Canyon Road and follow it until it turns into Prefumo Canyon Road (another colorful drive) which will take you into San Luis Obispo.
Highway 1 through Cambria up to Ragged Point
Highway 1 is a must-do road trip at any time of the year, but one of our favorites is during the fall. Not only are the colors changing, but the Elephant Seals are beginning their journey back to the Piedras Blancas Elephant Seal Rookery.
Monarch Butterfly Grove
Fall has officially begun in Pismo Beach when the Monarch Butterflies begin to flutter in. The foliage may not change all that much but the bright red, orange and yellows of the Monarch Butterfly wings add the perfect amount of fall flair to this coastal grove of trees.
Huasna Road
Explore the Arroyo Grande countryside on Huasna Road. Pack a picnic and enjoy Biddle Regional Park surrounded by autumnal colors before embarking on this backcountry journey.
Adelaida Road
Imagine a winding road with vineyards and trees creating natural archways over the road. Head out to Paso Robles' west side and you'll find that and more (hint: it has to do with wine tasting) on Adelaida Road.
Edna Valley
Experience San Luis Obispo wine country by taking a scenic drive in Edna Valley. Lined with beautiful vineyards and farms, Edna Valley is just where you need to be this fall. Take a pit stop at one of the many wineries located in the area and then head into the wonderful city of Arroyo Grande for dinner.