Up and down the roughly 70-miles of Highway 101 in SLO CAL you will find over 250 wineries. But how do you decide who to support and maybe join their wine club? Consider filtering by eco-friendly and sustainable, and don't forget to review our handy packing list!
Combining the SLO Coast Wine region and Paso Robles Wine Country, SLO CAL has nearly 50 wineries that are certified sustainable on the Sustainable Wine Trail. What do the certifications mean?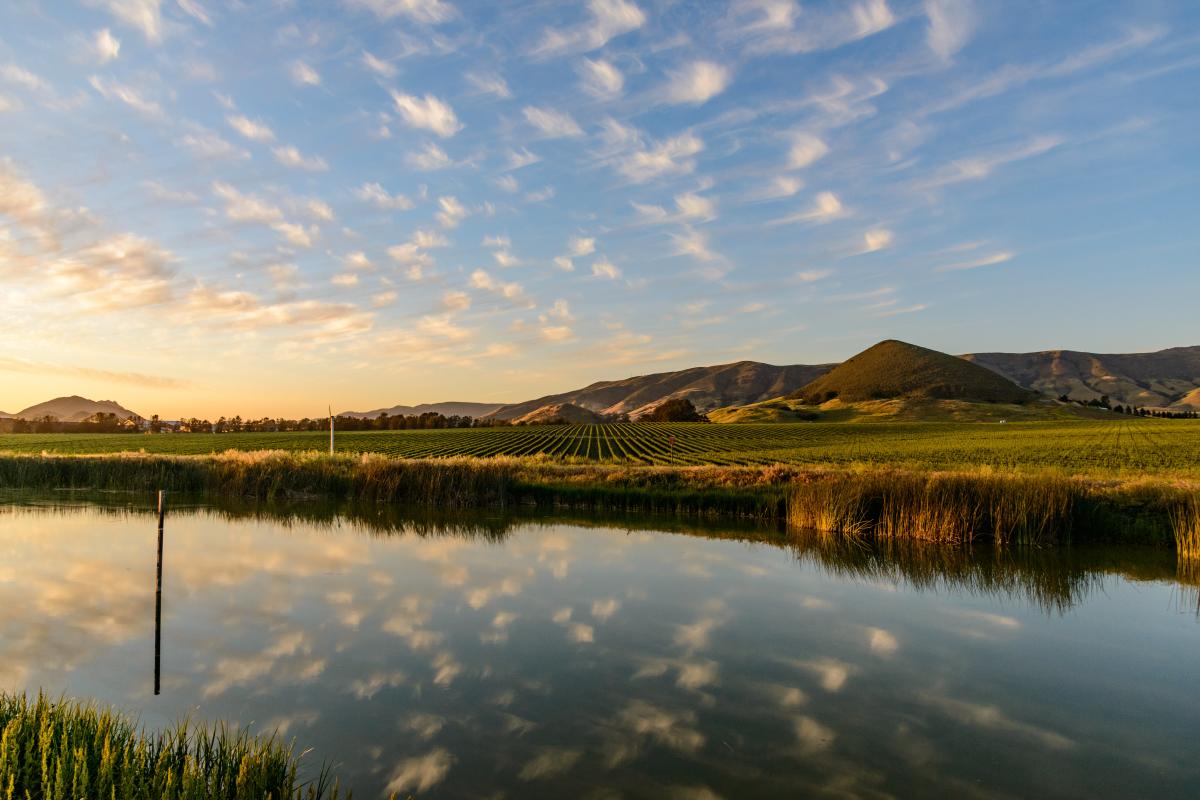 Tolosa irrigation. Photo by: Duane Hall
Sustainable Winery Certifications
Regenerative Organic Certification is a distinction coined by Patagonia®, which evaluates three key pillars (soil health, animal welfare and social fairness). Tablas Creek Vineyard in SLO CAL is the only winery that has been certified at this level and is currently serving as a global model for others, such as the local Villa Creek Cellars and Robert Hall Winery. 
Certified Biodynamic is a global standard that proves a grower uses biodiverse practices including soil husbandry and livestock integration. These wineries already adhere to organic practices and additionally respect the interconnectivity of the planets and the four elements of earth, fire, air and water. Days are divided according to the lunar calendar into best times for fruiting (best time to harvest), rooting (best time to prune), flowering (leave the plants alone) and leafing (best watering days). Also unique are the practices of making compost tea, burying dung in cow horns to later dig up and distribute around the vineyard at a later date. That's right. Don't ask us why. We're just the messenger. Those in SLO CAL that adhere to these practices are the Verdad Sawyer Lindquist Vineyard (known as Slide Hill) and Chamisal Vineyards in SLO Coast, and Castoro Cellars and Ambyth Estate in the Paso Robles wine region (see full list below). 
Organic Certification proves products are pesticide- and synthetic fertilizer-free. Certifications vary globally, and the USDA imposes bottling regulations, such as sulfites—which is why many do not display organic on their wine bottles—although the farming practices were certified organic. Organic seals on bottles are also displayed in the natural side of merchants, which is dissuading to many high-quality wines that might be segregated in stores. Those vineyards certified around SLO CAL would be Stephen Ross Wine Cellars in SLO Coast and Booker Winery, sixmilebridge and Turley Winery in the Paso Robles wine region (see full list below). 
Certified Sustainable comes from a variety of certification boards, such as SIP "Sustainability in Practice" or CSWA "California Sustainable Winegrowing Alliance." These verification standards are at a minimum, including water management and energy efficiency regulations. Many wineries are certified at this level, including SLO Coast's Center of Effort, Edna Valley Vineyards and Talley Vineyards. Meanwhile, the Paso Robles region boasts even more including the incomparable DAOU Family Estates, Cass Winery, Villa San-Juliette (see full list below). 
LEED Certified refers to green architecture, and the SLO CAL wine region boasts two such buildings. Look to the Paso Robles region for Shale Oak Winery and Niner Wine Estates for these tasting rooms and landscapes for gold and silver certifications, respectively. At Niner Wine Estates, a bank of solar panels provide energy to charge up your electric car while you sip (always remember to drive responsibly). There are a whole host of other EV charging spots in SLO CAL Wine Country you can read more here.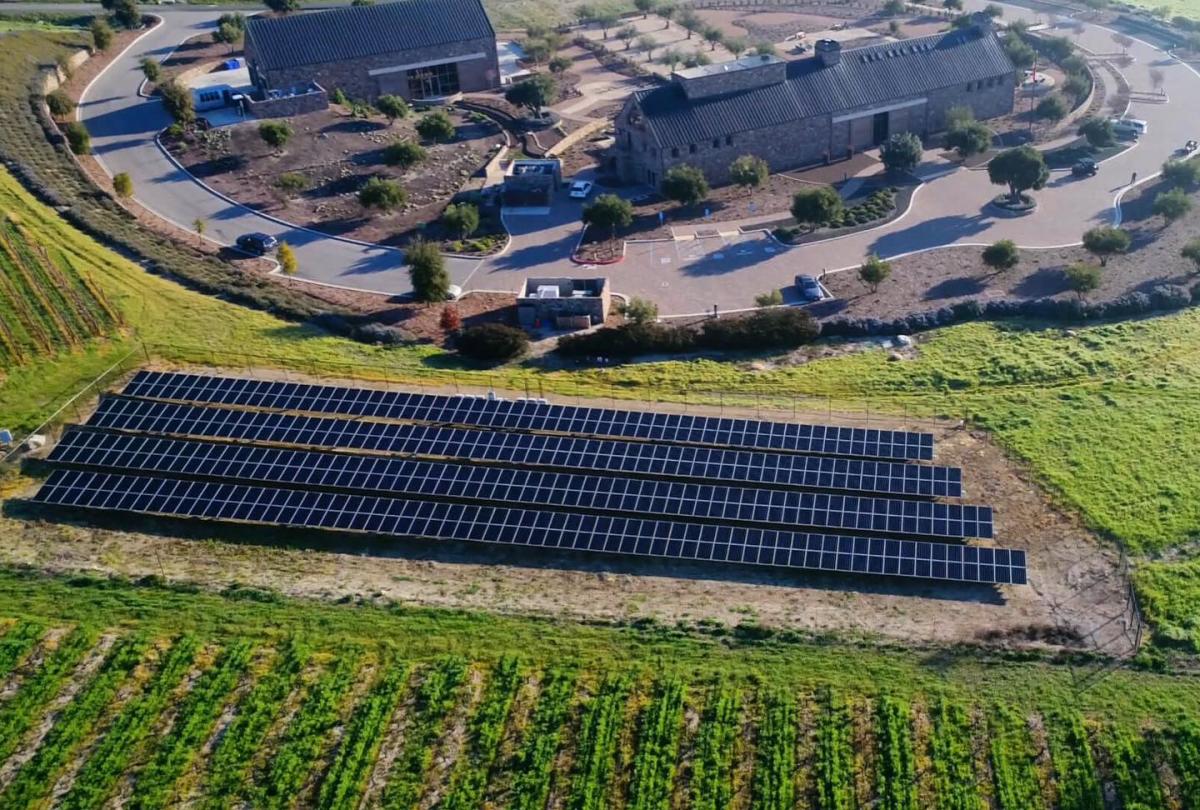 Niner Wine Estates
Stay A While
Better yet, stay a night at a winery! SLO CAL has plenty of boutique, luxury or even RV (see Cava Robles) spots to hitch up for the night. But how about staying over amongst the vines. Maybe not for the faint of heart, it will be just a few of you out among the vines in wine country. Sound up your speed? Consider checking out these vineyard villas:
Allegretto Vineyard Resort – Find a serene paradise in the rolling hills of Paso Robles at Allegretto Vineyard Resort. Enjoy a glass (or two) of wine while taking a vineyard tour, on horseback, in a private poolside cabana or post-spa service. Guests can savor some of the finest regional wines including Allegretto's own private label. Allegretto truly transports visitors to a Tuscan-inspired getaway without even leaving the U.S.
JUST INN – Enjoy the elegant, natural beauty of California's Central Coast at JUST INN, an on-site hotel at JUSTIN Vineyards & Winery. Guests can choose to stay in a JUST INN Suite, the exclusive and equally expensive Chateau at JUSTIN (we're talking $12,000 a night, and you can't even book right now) or Vintners Villa – all of which are surrounded with vineyard views. An overnight stay includes a bottle of JUSTIN wine, breakfast and complimentary tasting and turndown service.
Geneseo Inn – Located on the Cass Winery estate, surrounded by 145 acres of breathtaking vineyard views (especially at sunset). Enjoy one of eight apartment suites in the vines with amenities like the vineyard breakfast, a farm-to-table organic garden-supplied way to start your day. There are also a host of activities provided on the operation, like horseback riding, beekeeping lessons, cooking classes and much more! 
CaliPaso – Hidden in the east side of Paso Robles, find a haven with one of seven luxurious private residences at CaliPaso. The elegant architecture will transport you to Europe while you indulge in the oak-soaked countryside accommodations, just minutes to whatever SLO CAL town you have eyes for that day!
However you prefer to experience SLO CAL, sip confidently knowing your beverages were responsibly sourced and the fruits of our SLO CAL labor can be enjoyed for generations to come.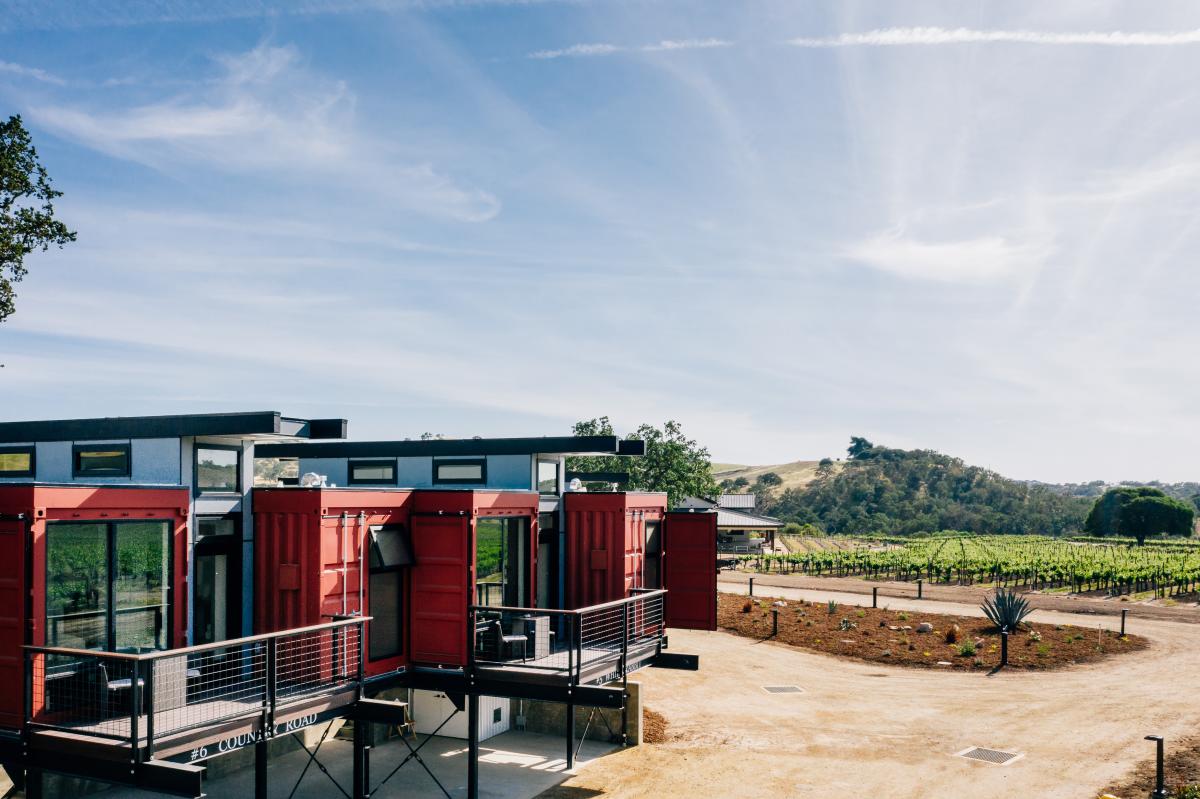 Geneseo Inn at Cass Winery