With rolling vineyards in the SLO Coast Wine region or the Paso Robles Wine Country practically in their backyard, most SLO CAL restaurants boast a robust wine list featuring the finest bottles of local producers. Chances are, if there's a local wine you'd really like to pair with your meal, you'll find it on several restaurants' wine lists. But what if you want to bring a bottle of your own to dinner? Perhaps you went wine tasting earlier that day and are eager to taste the flavors with your meal, or you've brought a rare, hard-to-find, or older-vintage wine. Fortunately, most SLO CAL establishments are happy to accommodate.
Photo credit: Restaurant at Sea Venture Beach Hotel 
Usually, restaurants charge a corkage fee for each bottle of wine you bring. In exchange, the restaurant provides its high-quality stemware and service, and often decanters and wine chillers, too. Call the restaurant ahead of time to ask about the corkage policy, and note that most have a two-bottle limit. Keep in mind, also, that when restaurants talk about wine bottles, they mean standard 750-milliliter bottles. If you want to bring your large-format treasures like magnums and jeroboams, give the restaurant a heads-up and be prepared to pay more.
In SLO CAL, corkage typically costs between $15 and $25 per bottle. Some restaurants charge less, including Odyssey Cafe in Paso Robles ($8), Distasio's on the Bay in Morro Bay ($9), Gina's Restaurant in Arroyo Grande ($9), Willow Nipomo ($10), and even the Great American Melodrama Theatre ($12), where you can bring your bottle to the bar and actors will open it and provide glasses — which is tasty and entertaining.
But among SLO CAL's many fine restaurants, there are several that do not charge for corkage at all. Maybe it's waived on the first bottle, or once per bottle you bring if you purchase one from their wine list. Sometimes a restaurant won't charge corkage on wine procured from a local winery (if it's not already on their wine list) or on a specific day of the week. 
Here, we list SLO CAL restaurants with generous corkage policies, where you can wine, dine and play sommelier with your own selection. Just remember, sharing is caring. When you BYOB, offer a taste to the person who opens your bottle, or even the chef. Complimentary or not, corkage is a courtesy; be awesome and gracious by returning the favor.
Restaurants Offering Fee-Free Corkage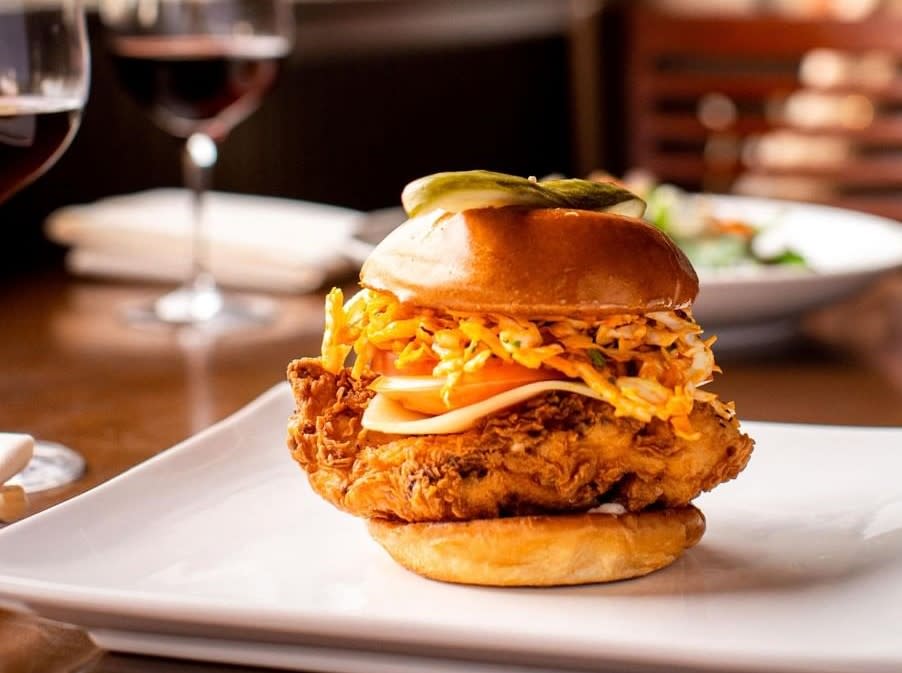 Photo credit: Steakhouse at the Paso Robles Inn
The Restaurant at Sea Venture Beach Hotel, Pismo Beach ($$)
Nothing beats dining on locally-sourced cuisine while watching the waves roll in. At the Sea Venture restaurant in Pismo Beach, classic dishes like oysters Rockefeller and Vol Au Vent meet casual eats like coconut shrimp tacos and steak nachos — all with a right-on-the-ocean view. Want to BYOB? The Sea Venture welcomes diners to sip their own wine, corkage fee-free.
Lido at Dolphin Bay Resort ($$)
Year after year, this Shell Beach restaurant's expertly composed wine list garners awards from top wine media. Even so, Lido at Dolphin Bay Resort welcomes visitors to bring one bottle of wine that's not already on their 800-bottle wine list for complimentary corkage. The menu is similarly generous, with farm-to-table cuisine and fresh seafood, paired with contemporary fine decor and sweeping ocean views.
Gardens of Avila ($$)
In Avila Beach, this long-standing restaurant specializes in farm-to-fork fare sourced primarily from a one-acre kitchen garden on the property. In keeping with that commitment to local agriculture, the Gardens of Avila does not charge for corkage on locally-produced wines. Dine by the fire inside, or enjoy your meal under the canopy of sycamore trees on the patio. After dinner, you can even bring your wine up to the mineral spring hot tubs, through the Sycamore Mineral Resort.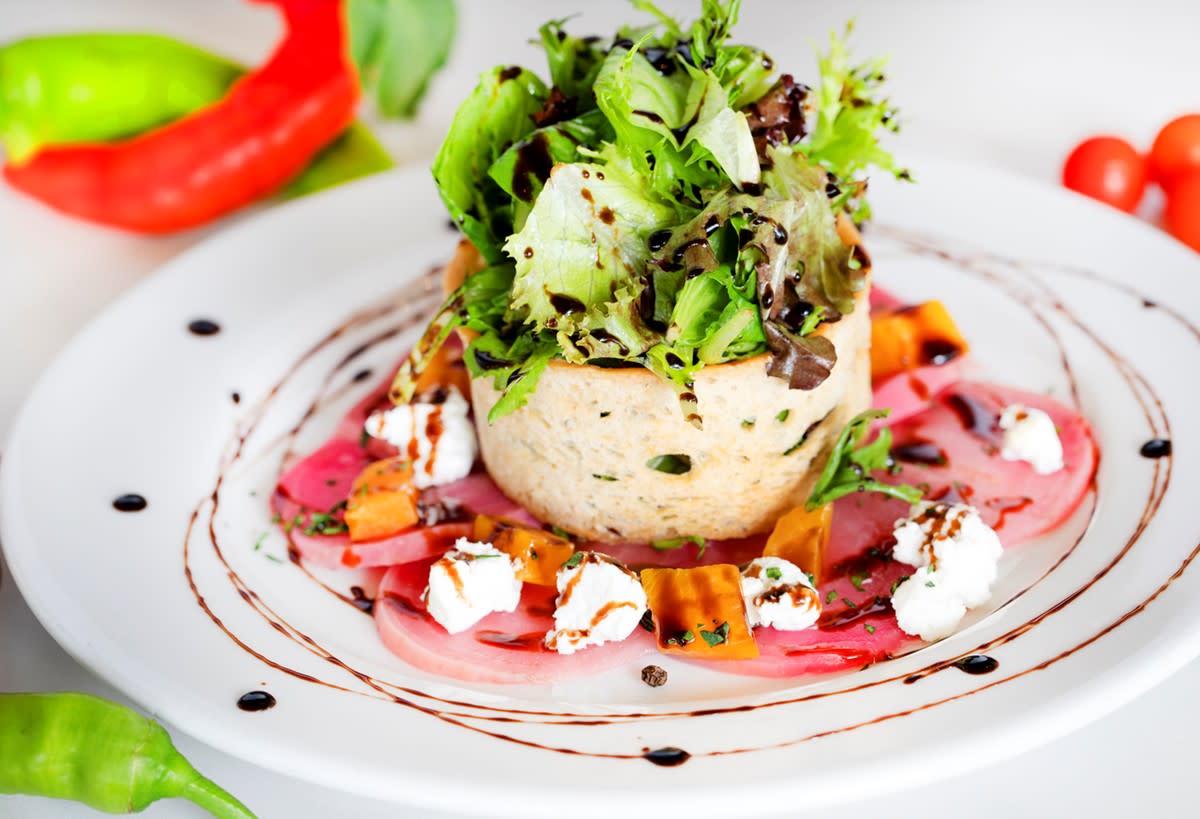 Photo credit: The Restaurant at Sea Venture Beach Hotel 
Mama's Meatball ($$)
Looking for a cozy Italian trattoria? Mama's Meatball is definitely a local secret, tucked back in the Creamery complex on Higuera Street at the edge of downtown San Luis Obispo. Come here for the flavors and ambiance you'd expect to find at a table in Italy. The vibe is warm and intimate, the dishes hearty and fresh. And when you come with wine, the restaurant will kindly waive corkage for your first bottle.
Noi & Doi's 2nd Street Cafe ($$)
This may not be the most obvious choice for BYOB, but it might just be the most rewarding. For years, sisters Noi and Doi have quietly served spectacular Thai cuisine from their bright and beachy cafe in Los Osos's Baywood neighborhood. Bring a bottle of wine or pick one up from Baywood Market, just up the street, and pair it with some of the best pad prik king around, no corkage required. Extra credit for enjoying the view from a bench on the Baywood Pier afterward, less than a block away.
The Hatch Rotisserie & Bar ($$$)
One of the best deals in town, this Paso Robles comfort food spot waives corkage on one bottle bought from downtown Paso Robles tasting rooms that day. (Be sure to keep that receipt.) They'll also waive corkage on a bottle if you purchase a carafe. Order up a plate of pimento cheese to start, and bring it home with fried chicken, like the locals do. The Hatch is a favorite haunt of winemakers and cellar rats — someone at the next table over quite possibly made the bottle you brought in.
Steakhouse at the Paso Robles Inn ($$$)
Located on Paso Robles' historic City Park, this restaurant offers its signature "cowboy-meets-coastal" vibe with steaks, seafood, and California cuisine. Pair the Steakhouse's fare with the wine of your choice: the restaurant does not charge corkage on locally-produced bottles. Pick up a wine or two from producers with tasting rooms located on or around the square, like JUSTIN Winery, Copia Vineyards, and Asuncion Ridge. Bring your selection and enjoy every sip, either indoors beside the fireplace, or on the dog-friendly patio.
Restaurants Offering Fee-Free Corkage Nights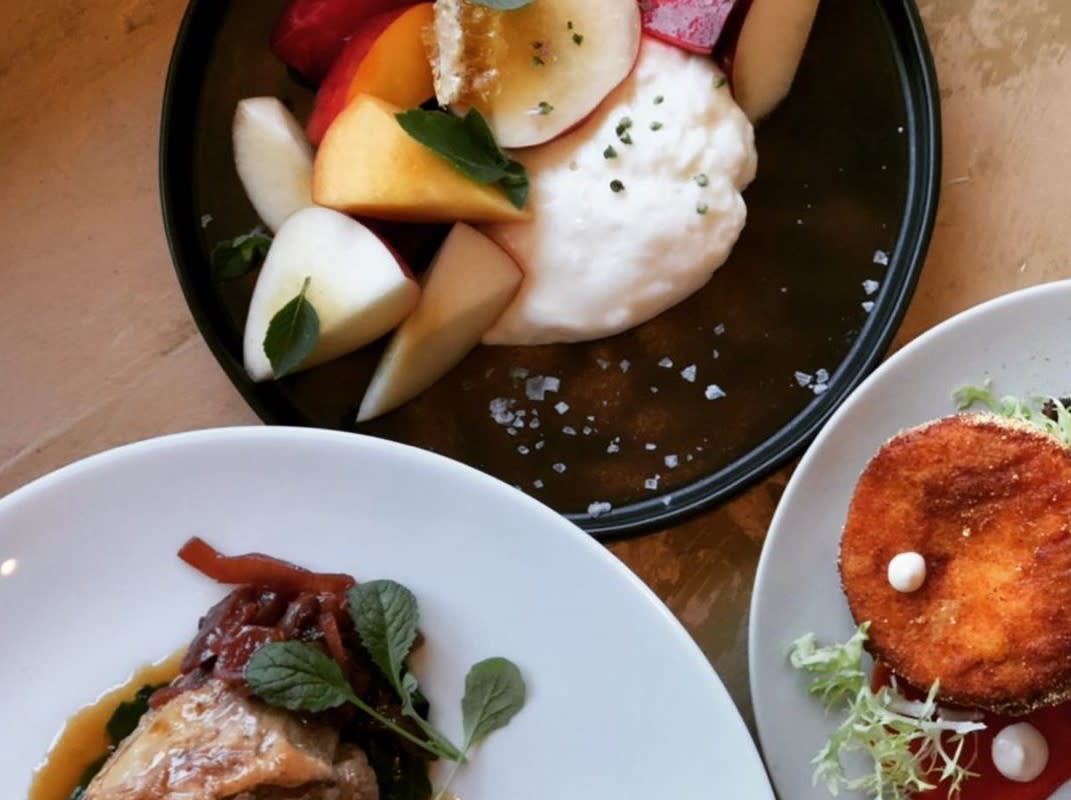 Photo credit: The Hatch Rotisserie & Bar
SLO Provisions ($$)
On Wednesday nights, this bright, popular San Luis Obispo bistro offers corkage-free dining. Owners Dwyne Willis and Steve Bland bring their Southern influence to dishes from succulent rotisserie chicken to black-eyed pea salad and specialty sandwiches and salads. The restaurant features a wide selection of local and international wines, and the staff are always excited to discover more. Bring your bottle in and share a taste with your server — they'll appreciate it.
Granada Bistro ($$)
Warm leather, exposed brick walls, and crisp service define the experience at Granada Bistro, an intimate farm-to-table restaurant and bar in downtown San Luis Obispo. Enjoy the heated patio or low-lit dining room, and BYOB for complimentary corkage, offered every Wednesday from 5 pm to 9 pm.
Restaurants That Offer Buy-One-Get-One-Free Corkage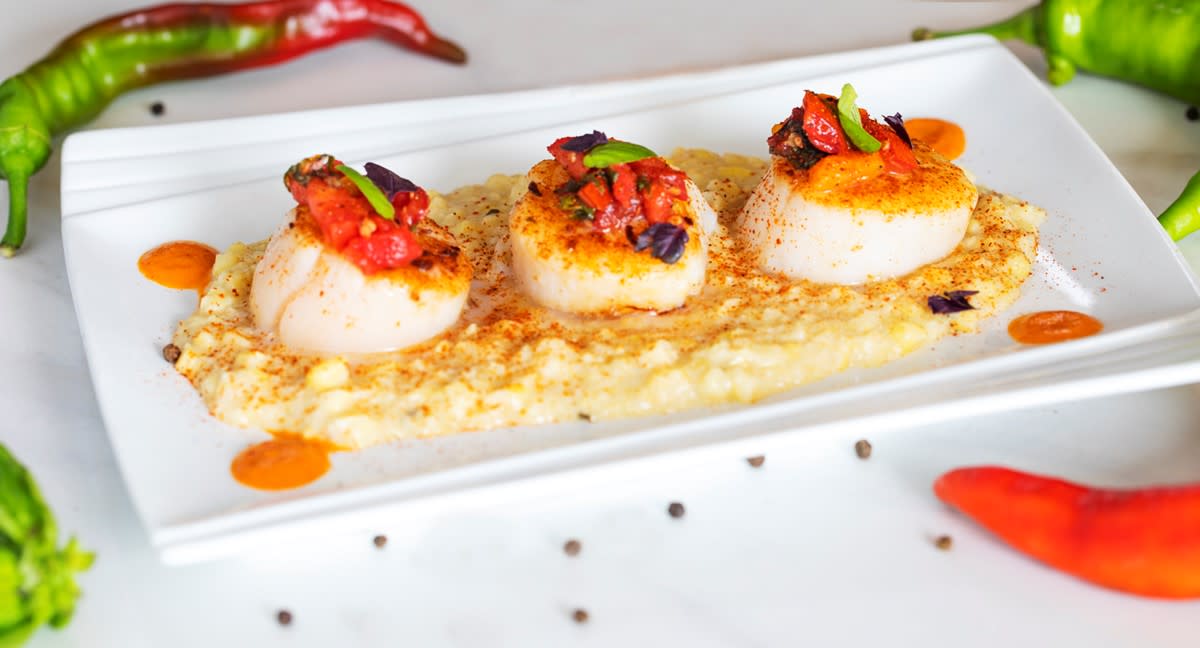 Photo credit: The Restaurant at Sea Venture Beach Hotel
Ember ($$$)
Known as one of the best wood-fired menus around, Ember focuses on local ingredients, prepared expertly yet simply, served in a warm, familiar environment. The restaurant is a hot spot for winemakers and industry folks, so the bottle you bring in — whose corkage Ember will waive if you buy one of their bottles — may have been made by someone dining beside you.
Spoon Trade ($$)
Located a couple of blocks from the dunes in Grover Beach, Spoon Trade features elevated American comfort food and a thoughtfully curated wine list. This is a neighborhood joint and a favorite spot for winemakers and hospitality industry folks. Their best-selling dish? Fried chicken and waffles with spicy honey and house-made kimchi. Pair your own bottle with one from the wine list, and Spoon Trade will cut the corkage fee.
Ventana Grill ($$)
Just-caught seafood, Latin flavors and endless ocean views are the names of the game at Ventana Grill in Pismo Beach. Sit at the bar, which faces the ocean, and tuck into clam chowder, corn-dusted calamari, and coconut halibut. For the bottle of wine you order from the wine list, Ventana Grill will waive corkage on the bottle you bring.
Ciopinot Seafood Grille ($$$)
Locally-harvested seafood rules the menu at Ciopinot in downtown San Luis Obispo, where the corkage fee is waived on your first bottle if you purchase one off the wine list as well. The ambiance is warm and crisp here, with hanging plants, white linens and candlelit tables. Indulge in the restaurant's famous cioppino, abundant with crab, mussels, clams, fresh fish, prawns and calamari. Or go for the oysters, charbroiled swordfish, or calamari fritti.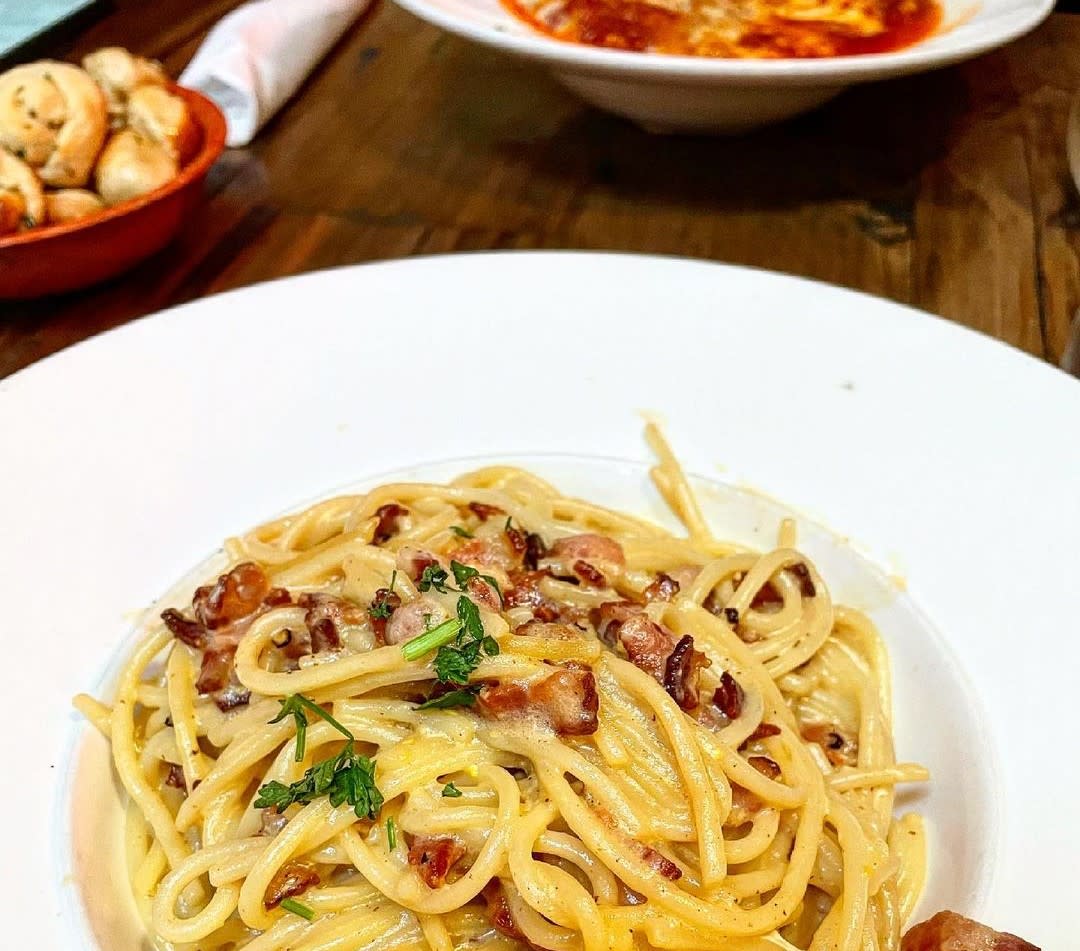 Photo credit: Mama's Meatball
Luna Red ($$)
Perched on the edge of Mission Plaza in downtown San Luis Obispo, Luna Red arguably has the best patio. With its mission-style architecture and the warm glow of market lights, this is a place to settle in and spend an evening. Luna Red offers free corkage for one bottle per bottle purchased from the wine list. Bring a group of friends to share your wine alongside plates of creative California cuisine, like bacon-wrapped dates, paella, and craft tacos.
Madeline's Restaurant and Wine Cellar ($$$)
The cuisine at Madeline's in Cambria reflects the best of French and American dishes, made with locally-sourced ingredients. An ideal setting for a romantic lunch or dinner, Madeline's also contains a wine shop selling local and international bottles, including hard-to-find gems. Pick up any bottle at the wine shop and pair it with your meal at Madeline's without paying the corkage fee. Afterward, stroll the nearby Moonstone Beach Boardwalk, with endless views of the rugged Highway 1 coastline.
Novo Restaurant & Lounge ($$)
For globally-inspired, wine-friendly cuisine, locals know to hit up Novo Restaurant & Lounge in San Luis Obispo. Find couples, colleagues, and friends enjoying lunch and dinner in Novo's high-ceiling dining room or the lush patio overlooking San Luis Creek. Corkage is complimentary here for one bottle per bottle purchased from the well-curated wine list. Dine on Novo's famous lobster bisque, spring rolls and noodle bowls, then hit the streets for a stroll through downtown SLO.
Robin's Restaurant ($$)
Don't miss the leafy patio at this Cambria institution, where globally-inspired cuisine meets a fantastic wine list of local and international favorites. Dine in comfort outdoors or take it inside where cozy nooks welcome visitors to linger over lunch or dinner. Purchase a bottle from the wine list and the good folks at Robin's will waive corkage on the bottle you bring in.
Linn's Restaurant ($$)
This beloved eatery began as a farmstand in the rolling hills outside Cambria. Today, Linn's is a local success story, with a farm-to-table restaurant, deli, gift shop and that charming farmstand. Hit the downtown Cambria restaurant for farm-fresh fare and comfort food like their famous fruit pies. For the bottle you purchase off their wine list, you get corkage waived on the bottle you bring. Consider popping into nearby Stolo Winery to choose just the right bottle of local wine for your meal.
Fish Gaucho ($$)
Bright, light and vibrant, Paso Robles' Fish Gaucho brings the spice of Latin America to California-fresh seafood. Order specialty tacos made with halibut, ahi, and short ribs, or fusion dishes like the ahi quinoa bowl or Alaskan halibut with "deconstructed elote." To accompany your meal, enjoy Fish Gaucho's complimentary corkage on one bottle for every bottle you purchase from their wine list. Afterward, grab a nightcap at Fish Gaucho's semi-secret sister property, 1122 Speakeasy & Cocktail Lounge, right around the corner.
*Price per Person
$= under $10
$$=11-30
$$$=31-60