SLO CAL contains so much diversity, culture and microclimates, we set out to make the perfect day-by-day guide. Find where to go in SLO CAL, what to do (especially late-night activities) and what to see. You'll set out on a perfect excursion to see SLO CAL in a 4-day extravaganza, filled with so many activities, you'll be planning your next trip before you even leave! So come along with SLO CAL to discover the California Less Traveled!
Day 1
SLO CAL South Coast
Where else to start but San Luis Obispo Regional Airport? Central to beaches and wineries, San Luis Obispo is a perfect place to get your hiking fix, squash that shopping bug or raise your blood sugar with delectable bites. To enjoy SLO in all its glory, look to Day 2. 
About 5 minutes from the airport, check out the SLO Public Market for all your tasty dishes, tchotchkes and local market supplies. The food hall has all kinds of options from pizza to hot chicken to bao and acai bowls, as you prepare for 72 hours in SLO CAL. Grab a barista-made coffee or a wholesome smoothie to enjoy inside or on the patio.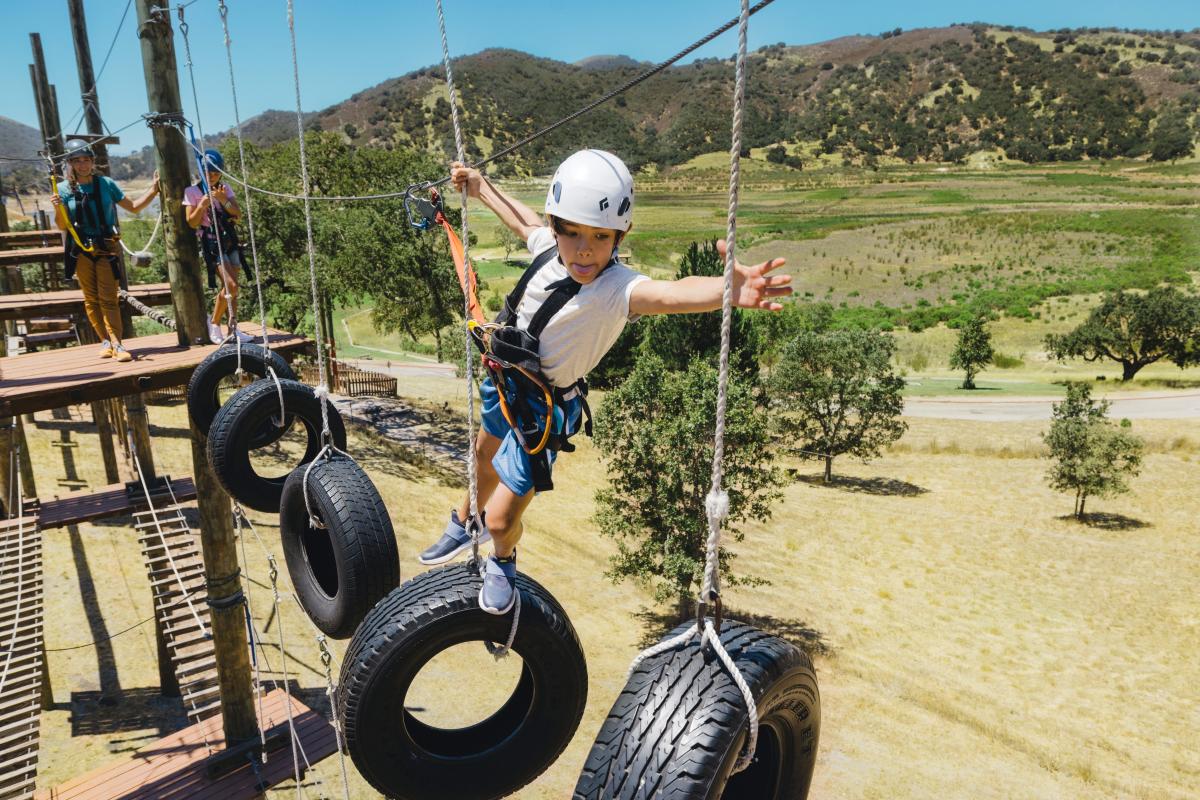 Up for adventure? Travel back to Lopez Lake's beautiful, warm and isolated Vista Lago Adventure Park for zip line adventures if you're so inclined. If you're afraid of heights, Talley Vineyards will understand. Enjoy their wine flights, or one of the 30-wineries around Edna Valley. But if you're here for the beach, go ahead and take the quick ride out on the backroads, reminiscent of the European countryside (Highway 227, Orcutt Road, Corbett Canyon to Huasna Road). Stake your claim on Pismo Beach with tacos on the pier. For an affordable adventure, consider a water excursion on open seas below the Dinosaur Caves Park with companies like Central Coast Kayaks. If your budget is slightly higher, feel the thrill outside the water with Xtreme Hummer Adventure's "wheels in the air" experience over the Oceano Dunes or take to the skies with Banner Airways' bi-plane thrill ride over the Pismo Pier. Whether or not you stay on the sand or fly in the sky, there's no shortage of fun here in SLO CAL's South County beaches. 
If a beach hike entices you more, consider the convenient and scalable Pismo Preserve, customizable for hikes intensities and options. Make your way to Avila Beach for the challenging Ontario Ridge hike, which offers stunning Pacific Ocean rewards. The ever-warm Avila Beach has many hidden beaches, like the dog-friendly Olde Port Beach, European-style party haven of Pirates Cove or the family-friendly Avila Beach, under the Avila Pier. Don't pass up the opportunity to drive on pilings at the Harford Pier. Dine for seafood at Merseas for an authentic SLO CAL experience, complete with a nearby dock to watch sea lions sun bask. Before you head home, check out the nearby Kelsey Winery experience or the family-friendly Avila Valley Barn, perfect during any season (especially fall).
After your busy day, you may want a drink at their Sycamore Mineral Springs' Secret Garden, tucked away in their gorgeous haven off of the Bob Jones Bike Trail. When you're hungry, check out Giuseppe's Italian Restaurant or Dels Pizzeria. If you've got a cowboy stomach, check out the famous dishes of F. McLintocks or Aj Spurs. For the elegant diner, why not sample the flavors at Dolphin Bay's Lido restaurant, the Cliffs Hotel and Spa's Marisol or Ember Restaurant in Arroyo Grande. For the most impressive bang for your buck, head to De Palo & Sons market for a grab-and-go sandwich and cheese tray to enjoy at nearby Memory Park, Eldwaylen Ocean Park, Margo Dodd Park or Dinosaur Caves Park. Believe us, you won't regret this decision!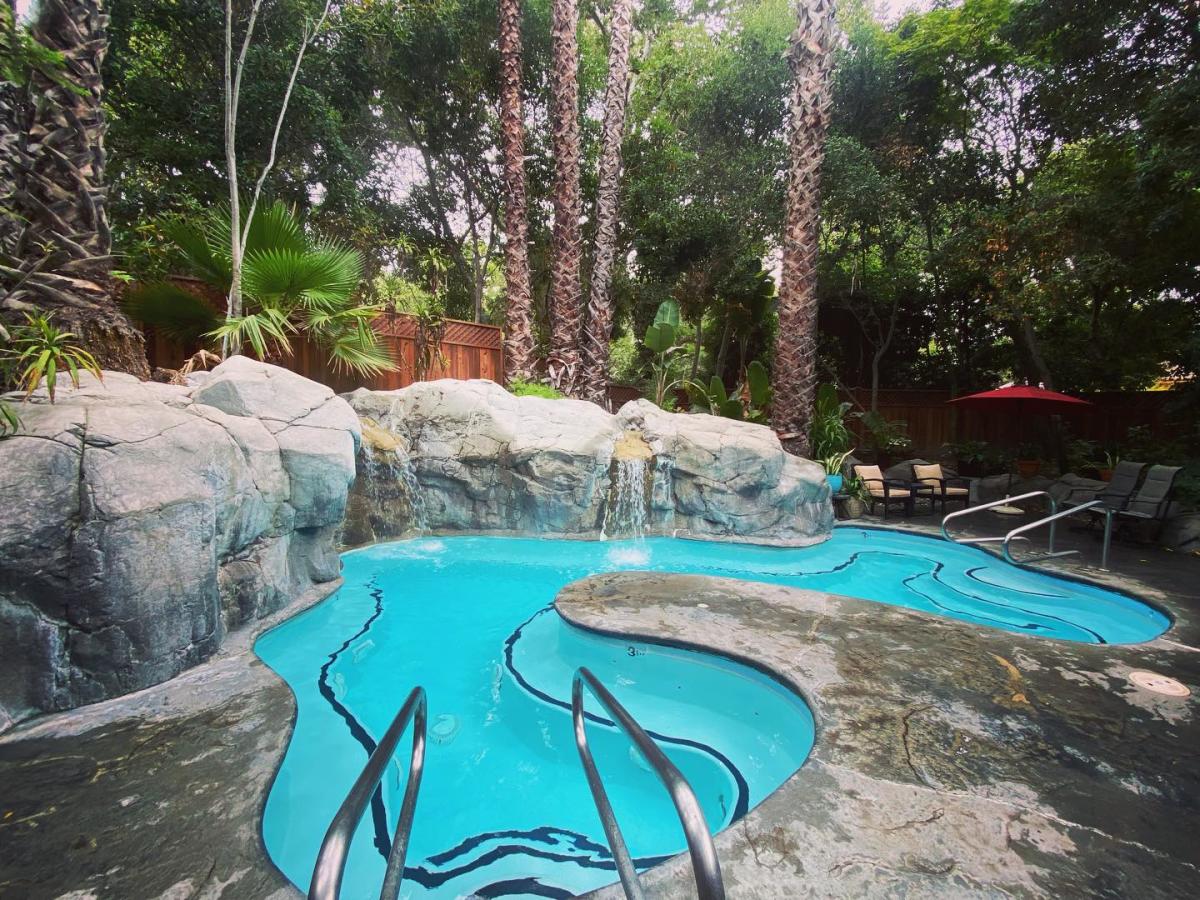 Photo credit: @sycamoresprings
Wrap up your night with a relaxing soak in the Sycamore Mineral Springs private hot tubs, or perhaps take in a live theater production at the Great American Melodrama & Vaudeville in Oceano. Find a nightcap at any one of the Pismo Beach resorts, like Vespera's Somerset Grill and an evening ball toss at the Pismo Bowl. If you want a traditional beach bonfire, let Butlerz Rentals know, and they will set up the perfect nighttime sandy excursion…BYO marshmallows. 
Day 2  
San Luis Obispo
Start your San Luis Obispo morning with breakfast at the historically extravagant Madonna Inn's Copper Cafe. Take a peek inside the main dining room, full of brilliantly gaudy decor, as you head to one of their many shops for souvenirs of their signature drinking goblets. If you've toted your hiking shoes and in for a long stroll, head up the bike path to the base of Cerro San Luis for a 1,000' ascend, taking the experienced hiker around two hours, roundtrip. If you're into a less strenuous hike, consider Terrace Hill, which offers the most significant views for the least amount of work.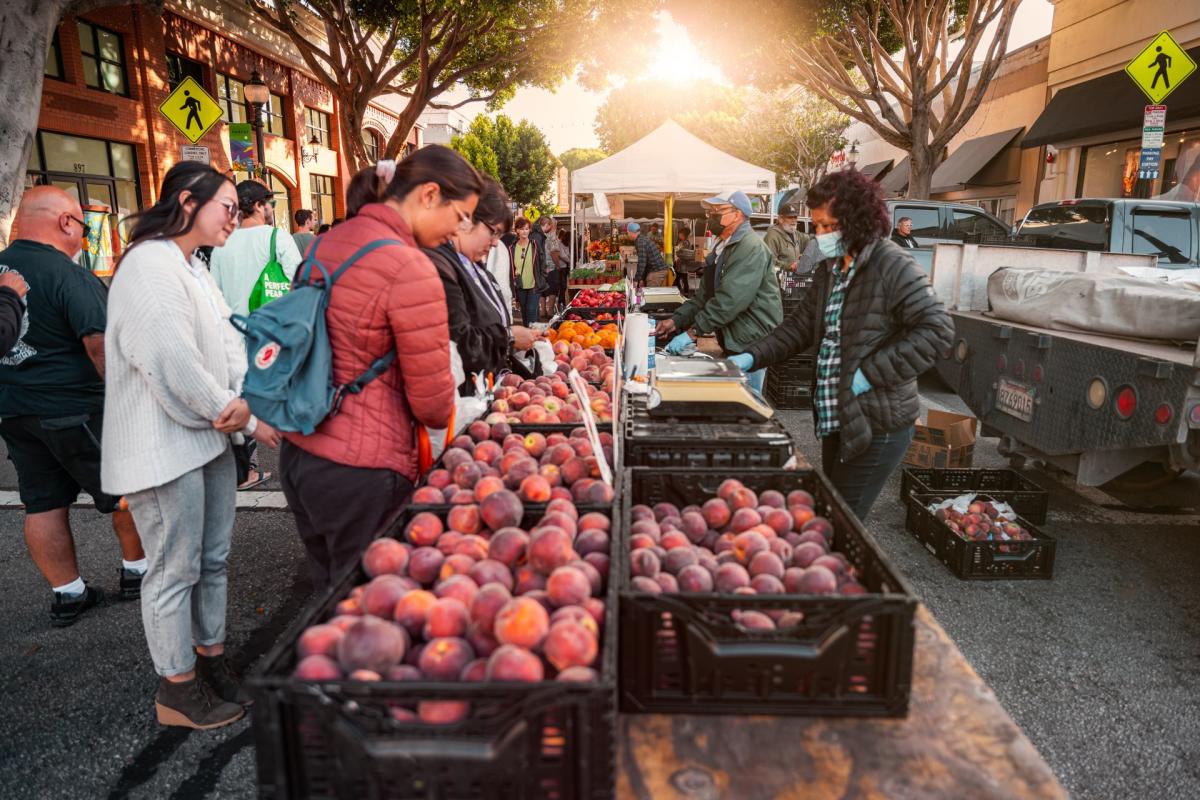 Once you've brushed off the sand, head to downtown San Luis Obispo to stroll creekside. Start by the Creamery Marketplace at the Children's Museum and enjoy a serene walk to the historic Mission San Luis Obispo de Tolosa, which offers tours of their historic buildings and tranquil gardens. Consider a creekside bite at Novo or other cute cafes like Big Sky, Burger Village, Firestone, sushi at Goshi, or step up your game with Park 1039. Leave your mark on the classic Bubblegum Alley behind an estimated two million people who have adorned this 70-foot alleyway off Higuera Street. Find your perfect flair at one of the shops and art galleries along the idyllic downtown strip. If it's a Thursday night, enjoy the quaint Farmer's Market with produce vendors, community booths and mucho street food options. 
Those seeking a cocktail will find their perfect mixture at Sidecar or Koberl at Blue, where their food menus are outstanding. Fine evening eateries continue to abound in San Luis Obispo's downtown corridor. Genuine Italian flavor can be found at Flour House, La Locanda or Buona Tavola. Who can turn down a carb? especially on vacation. Perhaps you're staying at the two San Luis Obispo flagship hotels: Hotel SLO or Hotel Cerro. If you're on a date, check out the hotels' respective restaurants, Piadina, Ox and Anchor or Brasserie SLO, that is unless you call ahead at the Granada Bistro, where it's not your average sidewalk walk-up.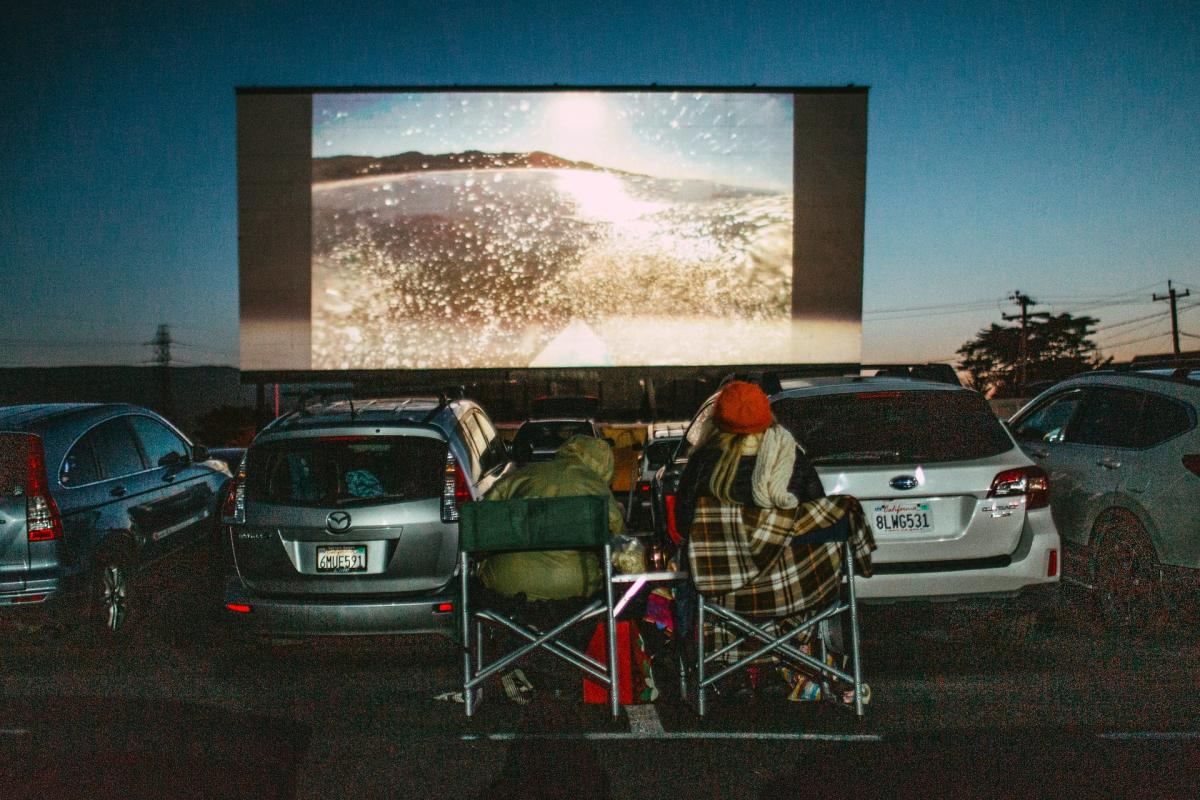 Don't burn your candle at both ends, but late-night SLO is also a thrill with the unique Sunset Drive-In. Catch a back-to-back feature film from the comfort of your car. Be sure to check the schedule indoors at reclinable Downtown Centre Cinemas, the independent Palm Theater, or the one-off Fremont Theater, with live events also happening at Cal Poly's more formal Performing Arts Center or standing-room-only shows at SLO Brew Rock. 
Day 3
Highway 1 Discovery Route
Pack your hiking shoes for a trip to the scenic and tranquil Montaña de Oro. The bluff hike is a runner's paradise to catch the Ireland-reminiscent terrain or challenge yourself with a hike up Valencia Peak. Don't forget to pack a sweatshirt. Did you bring your life vest? No worries. Any of the Morro Bay harbor excursions will provide safety gear as you set out on a self-guided or chaperoned tour to watch your catch-of-the-day be reeled in, in advance of lunch at Tognazzini's Dockside. The ever-stunning Morro Rock will wink at you throughout as you enjoy the majesty of the freshest seafood you will ever want, such as the world-famous Morro Bay Oyster Co.'s fresh farms. Perhaps you noticed the three smokestacks of the old power plant nearby? Check out the local brewery, aptly named Three Stacks and a Rock. Here begins real good antiquing. Check out the Hwy 41 Emporium or head up to Cayucos and Cambria for the respective Main Street Antiques or Antiques on Main. If seafood grub in Morro Bay did not suffice, stop for sandwiches in the quaint Cambria Café on Bridge St, among many other options like the pastry counter at Linn's Restaurant. This ski chalet-looking town is so diverse, you'll want to stay for a while. Check out the versatile hiking options among the oaks and pines against the magnificent blue Pacific Ocean at the Fiscalini Ranch Preserve or attempt a tour at the unique California historic landmark #939, Nitt Witt Ridge, built through the 1900s with unique and weird artifacts. Stroll a while on the Moonstone Beach ADA-compliant boardwalk but don't forget to extend the walk with the view at Leffingwell Landing Park for the most magnificent view of what was once William Randolph Hearst's port, used to import all materials to build his castle on the hill.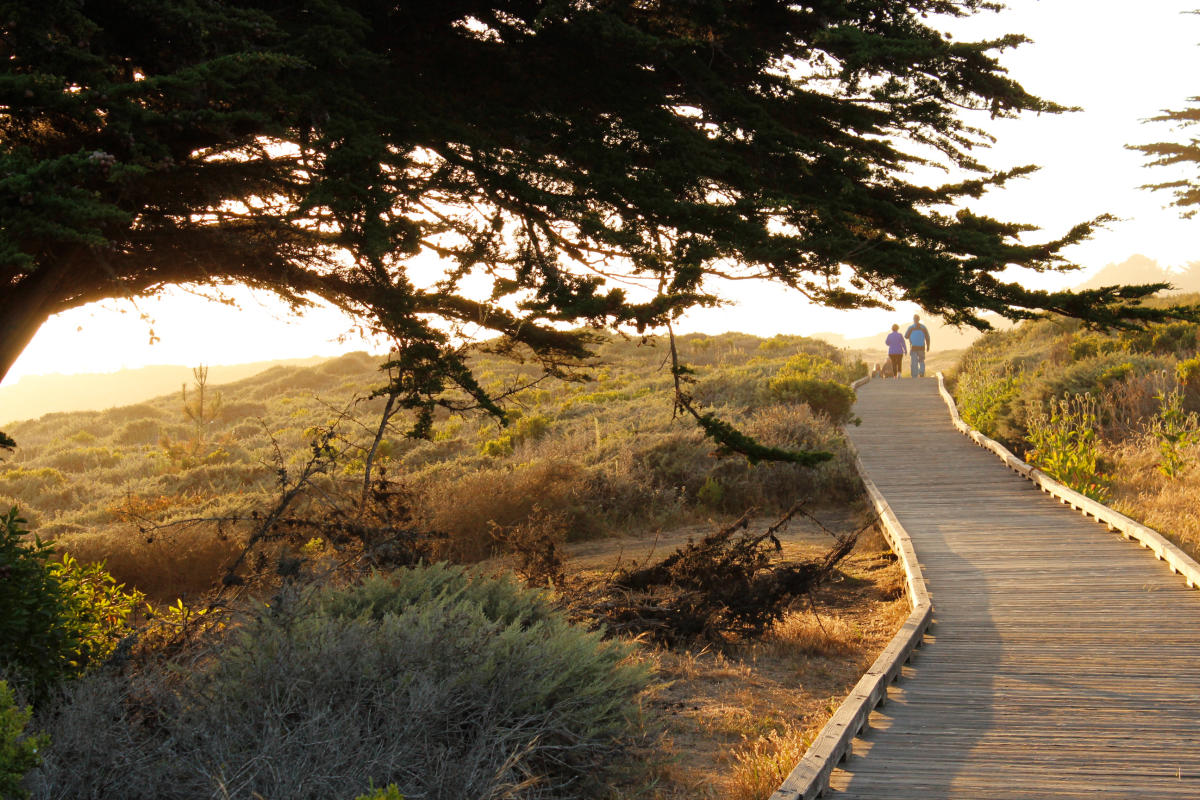 We know you're waiting for Hearst Castle to open up since the pandemic lockdown, but try a unique lighthouse tour nearby if you keep heading northward on Highway 1 for Piedras Blancas Light Station (the old light station lens is on display in downtown Cambria). And don't think we forgot the wine drinkers out. The most unique tasting room sits right below Hearst Castle on William Randolph Hearst State Beach. Check out Hearst Ranch Winery, whose grapes grow in the warmer climate of world-renown Paso Robles. In this coastal tasting room, you'll sample robust reds and delectable whites while overlooking crisp waters. Peek at the private homes nearby, which were designed by Hearst Castle architect Julia Morgan. For an extended walk, join the magical walk leading out to San Simeon Point. At the end of the half-mile peninsula, a backward look toward the sparkling cove gives breathtaking views of rock formations carved by the sea. Located on the private property of the Hearst Ranch, the trail is frequently used, but there are no public easements to the point. Hikers can find the path by ascending the bluff at the north end of the cove.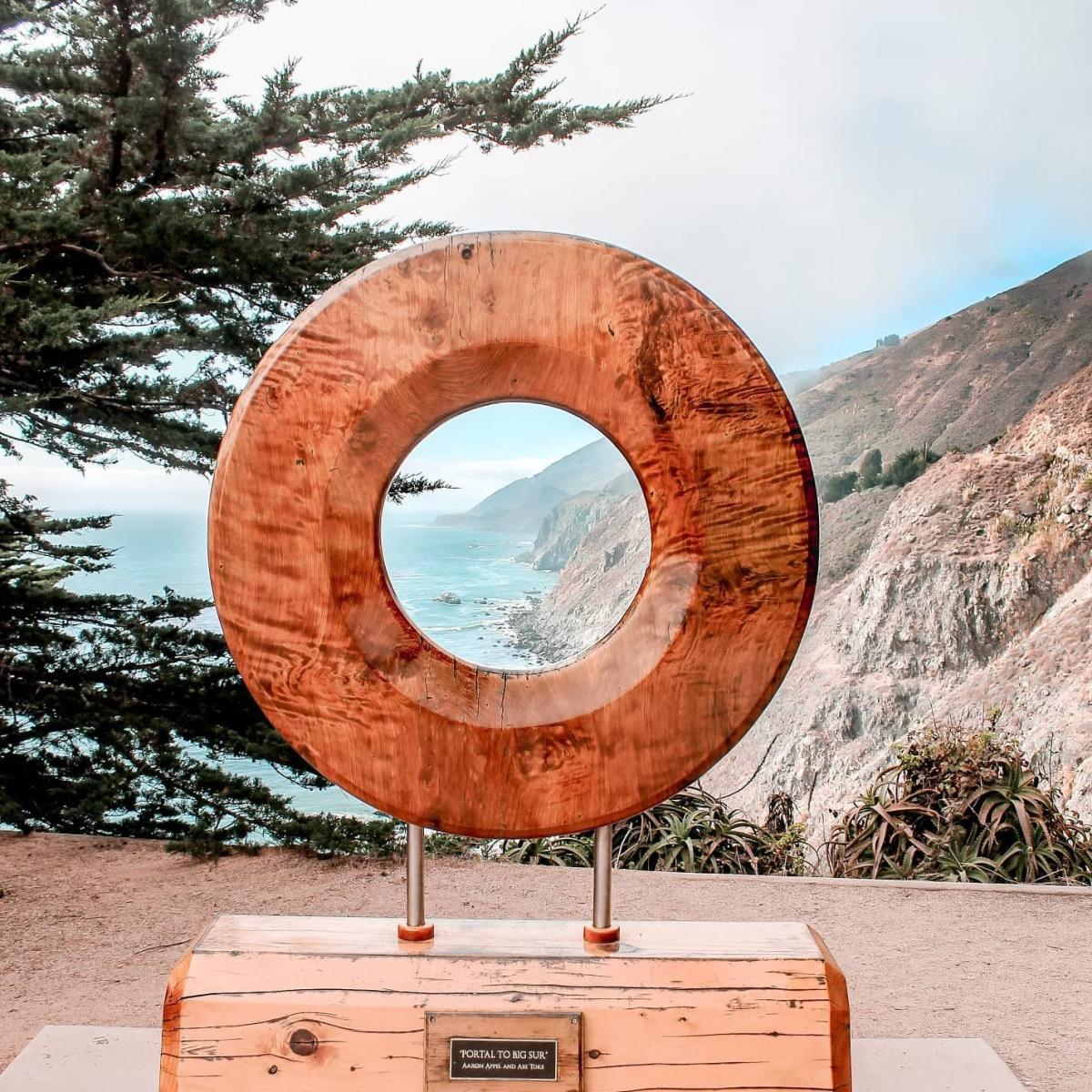 Photo credit: @ewe.lag
Speaking of stunning views. If you have an extra 20-minutes, continue north to Ragged Point Inn for mesmerizing, million-dollar ocean views towering 400-feet above icy blue waters. The Portal to Big Sur art installation perfectly frames the photo op, reminding you of the recharge you found while gazing out at this essential roadside attraction. Various pull-offs along the coast allow for whale watching. There's a particular spot to gaze at the largest seal in the Western Hemisphere—the elephant seal. The largest males can reach 5,000 lbs and be the size of an SUV. Prime viewing for these rare species is in winter. Afterward, head back on Highway 1 to Cambria for a dreamy meal at the beautiful patio and garden dining at Robin's Restaurant. You'll be in bed by a decent hour due to the solitude of these beaches, but if you want an after-dinner treat and the evening coastal fog hasn't rolled in, head out stargazing. Any one of these spots will astound you with brilliant constellations and planetary views. There's nothing like SLO CAL's north coast for viewing the cosmos, thanks to the limited light pollution.
Day 4
Paso Robles Wine Country
With over 250 wineries in Paso Robles Wine Country, how do you choose? Consider Paso Robles Wine Country Alliance's helpful website search filters, or consider what is important. High-quality wines don't necessarily come with the highest ratings. Let Visit SLO CAL guide your overall visual experience with a stop at the modern and sleek Booker Winery. Here is a brand new facility perfect for segmented parties—the lawn game area, the VIP area, the wine cave area and the outdoor patio. Surrounded by baby vines, you'll taste the grapes that surround you. Nearby, check out the L'Aventure, where aging caves also exist. This French winemaker was a pioneer in Paso Robles red blends and remains a fixture in the community, including recognition with a neighbor, Booker Winery's My Favorite Neighbor brand. Nearby is Niner Wine Estates. This French countryside manor looks out on Heart Hill, a love-shaped oak tree bouquet on the mountainside behind, surrounded by vines. Grab lunch from Niner's glamorous food menu and walk among the olive trees for Instaworthy luxe bragging. If you're into heights—we're talking elevation—continue to LAW Estate Winery, where 50' staircases take you to the tasting patio of Paso Robles' second-highest elevation tasting room. This modern design is perfect for grand parties in their barrel room, or private engagements by request (just ask to be seated downstairs in your reservation notes). But the reason you came up this far is for the views, so unless you need seclusion, opt for their glass-enclosed tasting room and patio above. Don't sleep on the hype of DAOU Vineyards. This is the highest tasting room in all of SLO CAL and worth the wait. Booking out months in advance, this experience is unlike any other. Drink in the 360° views at this perfectly manicured estate, and extend your stay with charcuterie and bottle on their wine barrel Adirondack chairs. There are plenty of other Paso Robles Wine Country Alliance classifications you can search by, like biodynamic farming practices to organic certifications, wine caves, amphitheater-adjacent tasting patios or experimental winemakers like Bodega de Edgar and Herman Story. Speaking of more, don't forget to check out the west side of Paso Robles, like Cass Winery's hilltop sunset horse rides, honey-making lessons or archery. Come to think of it, stay a night in their Geneseo Inn to sleep off the day drinking you've done before experimenting with any of the aforementioned activities. Once you head back into the quaint Paso Robles town square, consider olive oil tasting at the other liquid Paso Robles is famous for. Ship a bottle, or grab some of their beautiful olive wood houseware items (did we mention the delectable smells of their tangerine soy candles?).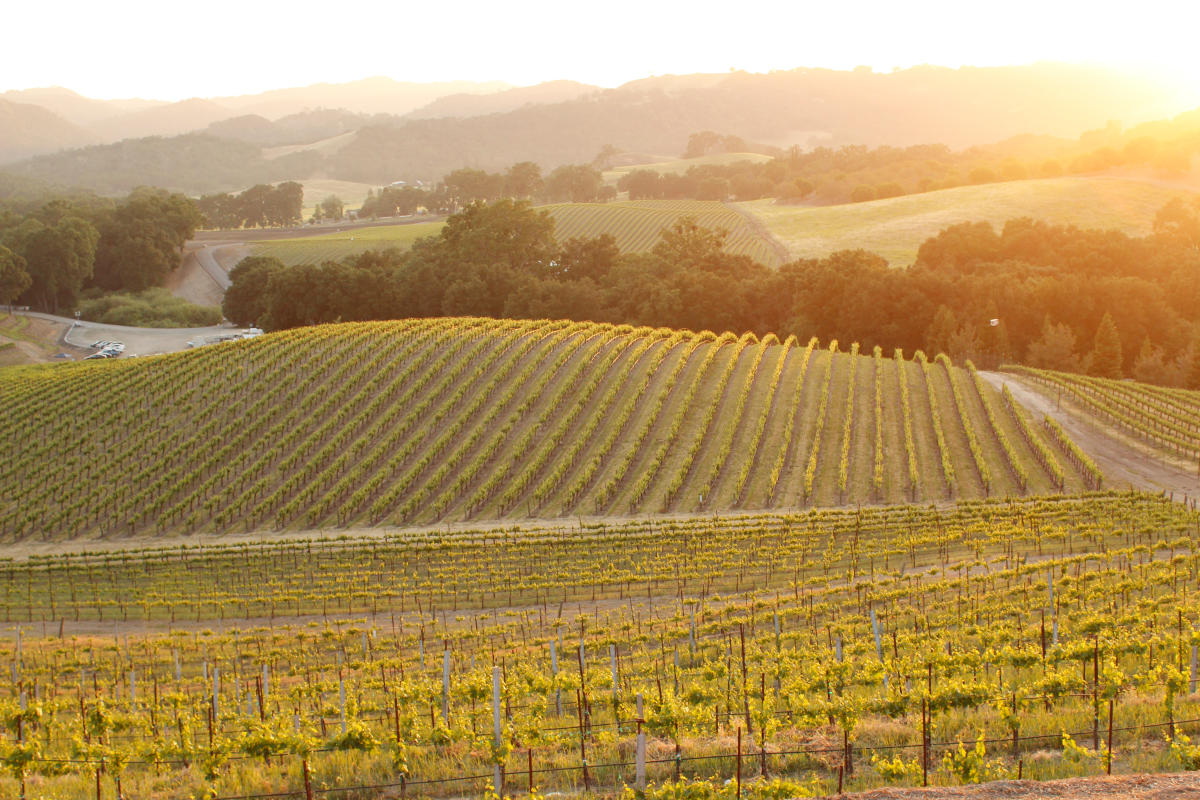 Paso Robles is your hot spot for culinary creatives. Luncheon at Jeffry's BBQ or the McPhee's Canteen nearby at the hip neighborhood cul-de-sac Tin City. While at Tin City, enjoy Barrelhouse Brewery's expansive water feature and backyard stage, or sample the intimate wine tastings at Field Recordings. Who said you can't have dessert before dinner? Check out Negranti Creamery for their sheep milk ice cream rich in flavor and spectacular in any flavor they offer. Continue into Atascadero for their burgers and brews trail, home to one of the top burgers in the county at Sylvester's. This town is great for hiking or paddle out on Atascadero Lake Park for some time on the water.
Nearby, a steak dinner is served at McPhee's Grill and The Range. Belly-up in this cowboy town, or head back into Paso Robles for a trip to the Paso Market Walk for dinner, dessert and wine. Or stroll around the Paso Robles town square to find the no-need-to-make-a-reservation at The Alchemists' Garden or the uber pricey but delectable Mexican canteen, Fish Gaucho. For the French wine drinkers, try French cuisine from the son of L'Aventure at Les Petites Canailles.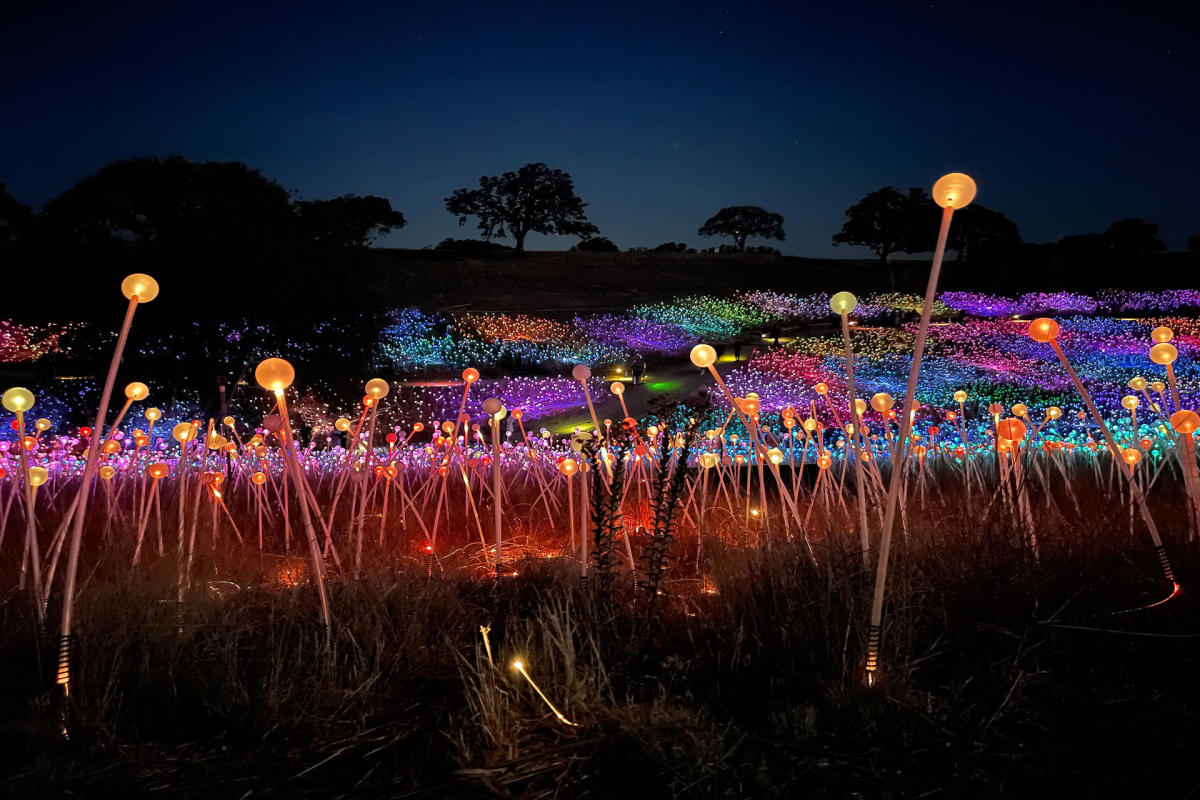 When the sun goes down, find yourself at the Vina Robles Amphitheater for one of their large stage productions or head across the busy highway (via car) to the Bruce Munro installation at Sensorio. Here, you will see 17,000 wine bottles illuminated next to sparkling fields with 58,000 stemmed fiber optic spheres that gently bloom with color to create your perfect Instagram spot. Head back into town for a secret speakeasy spot at Eleven Twenty Two Cocktail Lounge, or just follow where the crowd noises lead you. You're sure to find buzz in this city before heading back to the comfort of your linen sheets. 
And there. You've done it! SLO CAL in four days. What a whirlwind, but oh-so-worth-it. You think you've seen it all, but we guarantee you'll be back for our unique experiences, yet-to-be-discovered by the world. You'll be glad you got in when you did, so you can play tour guide for all your friends clamoring to get in line after seeing your perfect getaway.