Greener pastures await in eco-friendly SLO CAL
Seeking a sustainable getaway? Here in SLO CAL, the pristine natural surroundings—untouched beaches, pastoral meadows and clean, fresh air—inspire not just awe, but pride. As stewards of this breathtaking land, we're committed to bolstering Mother Nature every day, whether that means doing away with single-use plastics or protecting ancient oak woodlands. With plentiful open-space hiking trails, organic farms and eco-conscious boutiques, we're doing our part to leave the Earth better than how we found it. If this is a mission you can get on board with, hop on for a ride!  Well, a bike ride, that is.
Travel green
Because what you do in SLO CAL is almost as important as how you get here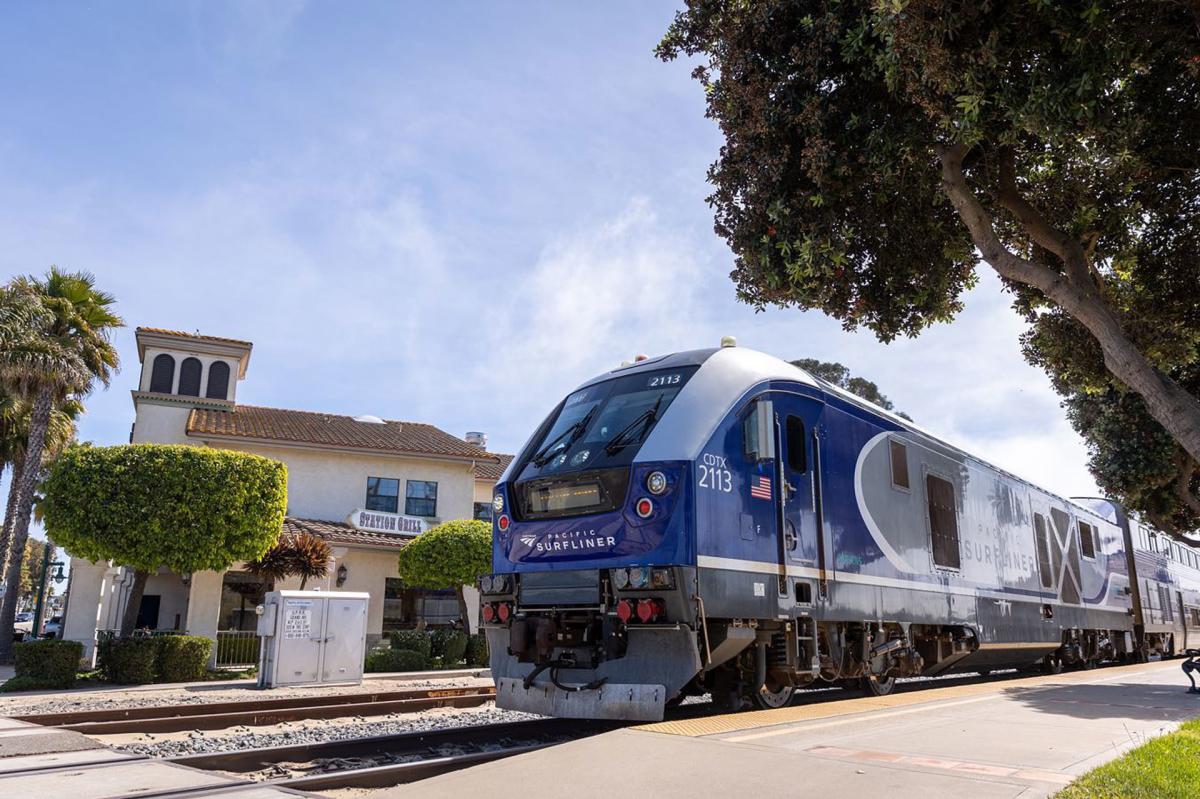 Choo-choose rail travel
All aboard! Getting to SLO CAL is easy, scenic and sustainable when you travel by train, which produces far fewer gas emissions than a trip by car or plane. With combined stops in San Luis Obispo, Grover Beach, Guadalupe, and Paso Robles, the Amtrak Coast Starlight and Pacific Surfliner rail lines provide an easy, no-fuss option for getting to SLO CAL on your schedule. Tip: Enjoy the fabulous coastal views, work on that craft project or finish that good book you've been meaning to get to. This is your time. Sit back and relax.
Make the connection
Leave the driving to someone else. Once you're here, there's no need to rent a car. Several buses traverse SLO CAL allowing for easy access to the cities as well as the coast. Swipe onto your favorite ride share app or check out San Luis Obispo Regional Rideshare, which offers biking, carpooling, van-pooling and other eco-friendly travel options.
Life in the bike lane
Cycle on. In SLO CAL, we believe that everything is just more fun on a bicycle. Whether you rent a beach cruiser and ride to the Cambria farmer's market or embark on a strenuous endurance route through the oak-studded backroads of Atascadero, SLO CAL offers up a bike-friendly paradise for cyclists of all levels and interests. In 2019, the city of San Luis Obispo was even awarded a Gold-Level award in Bicycle Friendliness by The League of American Bicyclists! Yep, you can pedal easy around these parts. 
Eat Green
Savor SLO CAL's bounty one local bite at a time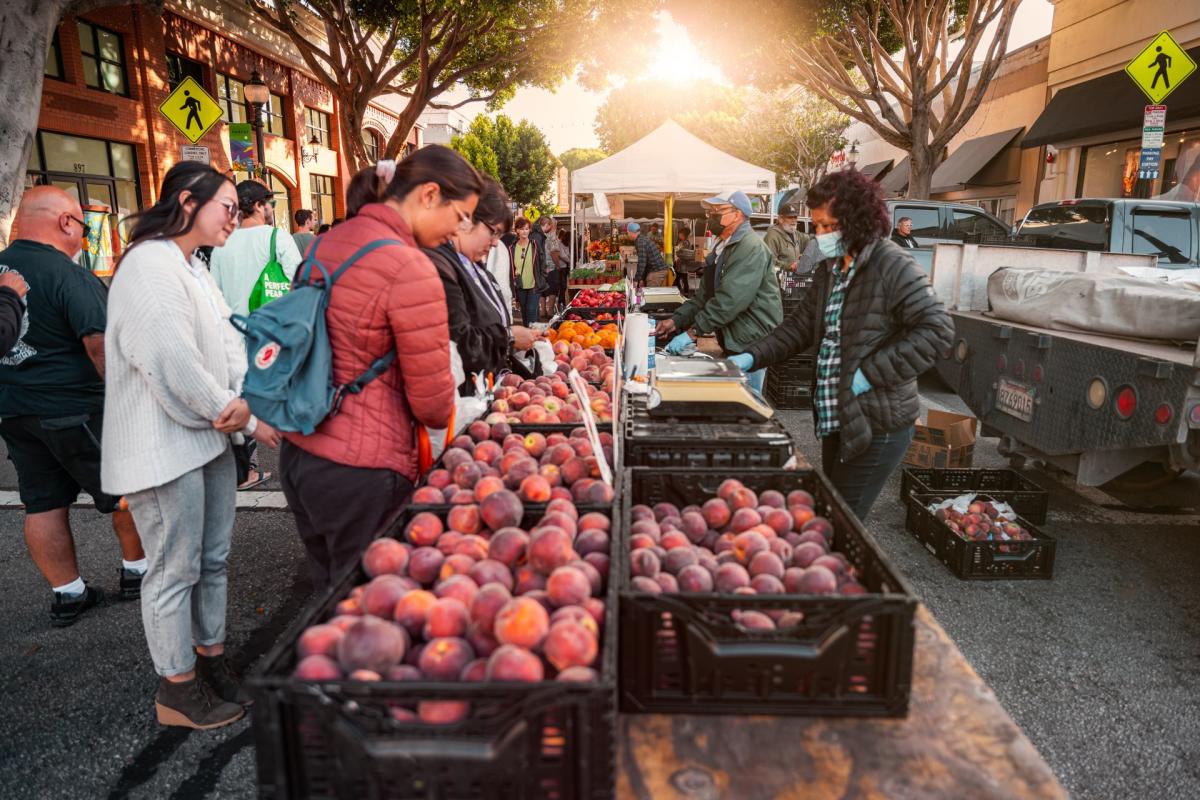 Locally delicious
Craving some color on your plate? SLO CAL's farm-to-table dining scene is vibrant and fresh. Come taste what the sun, soil and climate have to offer your tastebuds. Sample amazing seasonal ingredients sourced from local farms. On the contrary, SLO CAL is home to dozens of small family-owned farms producing everything from heirloom tomatoes and squash to strawberries, citrus and avocados. With a temperate year-round growing season, it's always the right time to eat field-to-fork. Tip: Seeking plant-based pleasure? From the famous tempeh tacos at Shine Cafe in Morro Bay to the luscious smoothie bowls at Y'Not Juice Bar in Pismo Beach, you'll feel energized and nourished in SLO CAL. You'll also want to check out these killer restaurants focusing on vivacious vegetarian and vegan fare.
Nosh nimbly
Grab just what you need, and nothing more. Temporary residing at one of our excellent SLO CAL vacation rentals equipped with a kitchen and fridge? Fill up with all the everyday staples you need—granola, pasta, trail mix, snacks—without all that wasteful single-use plastic. SLO Food Co-op in San Luis Obispo has a stellar bulk department (including bulk shampoo and conditioner, too). For organic and wild-harvested loose-leaf teas and herbal remedies, check out the Secret Garden Organic Herb Shop in San Luis Obispo. Tip: Locally sourced meats can be found at J&R Natural Meats in Paso Robles and sustainably farmed oysters from Morro Bay Oyster Company offer a truly delicious zero-waste meal. When you purchase from local purveyors across SLO CAL, you get all the goods minus any unneeded packaging or transport. No shopping cart or club card required!
Befriend a farmer
Shake the hand that feeds you. Want to taste local delicacies straight from the artisans who make them? Head to one of SLO CAL's more than dozen weekly farmers markets to support area farmers and get your hands on the freshest produce, meat, eggs, jam, bread, honey, olive oil and even local craft beer and vegan cheese. Keep an eye out for area chefs—they're known to shop these bountiful produce stalls alongside the locals.
Sip sustainably
Swirl for the planet. SLO CAL winemakers aren't just concerned with the quality of their chardonnay or cabernet sauvignon—they also care about the land from which those grapes came (plus the hardworking folks who farm those acres). Hit the SLO CAL Sustainable Wine Trail for a variety of wineries using sustainable practices. Look for SIP (Sustainability in Practice) Certified vineyards across Edna Valley, Arroyo Grande and Pismo Beach to the South and Templeton and Paso Robles to the North. These SIP-Certified tasting rooms choose natural farming practices that honor the web of life (and your palate).
A virtuous dessert
Everyone needs a treat now and then! Fabulous fair-trade chocolates come courtesy of Cal Poly Chocolates, available at many SLO CAL markets. Mama Ganache Artisan Chocolates in San Luis Obispo also offers up a sweet variety of ethically sourced, organic, artisan chocolates to choose from. Craving something sugary—but not too naughty—in Paso Robles Wine Country? Bless Your Heart Baking in Paso Robles is known for its delicious gluten-free, dairy-free and vegan goodies made with local love, including donuts, cupcakes, cookies and more.
Be Green
Embody SLO CAL's feel-good sustainability practices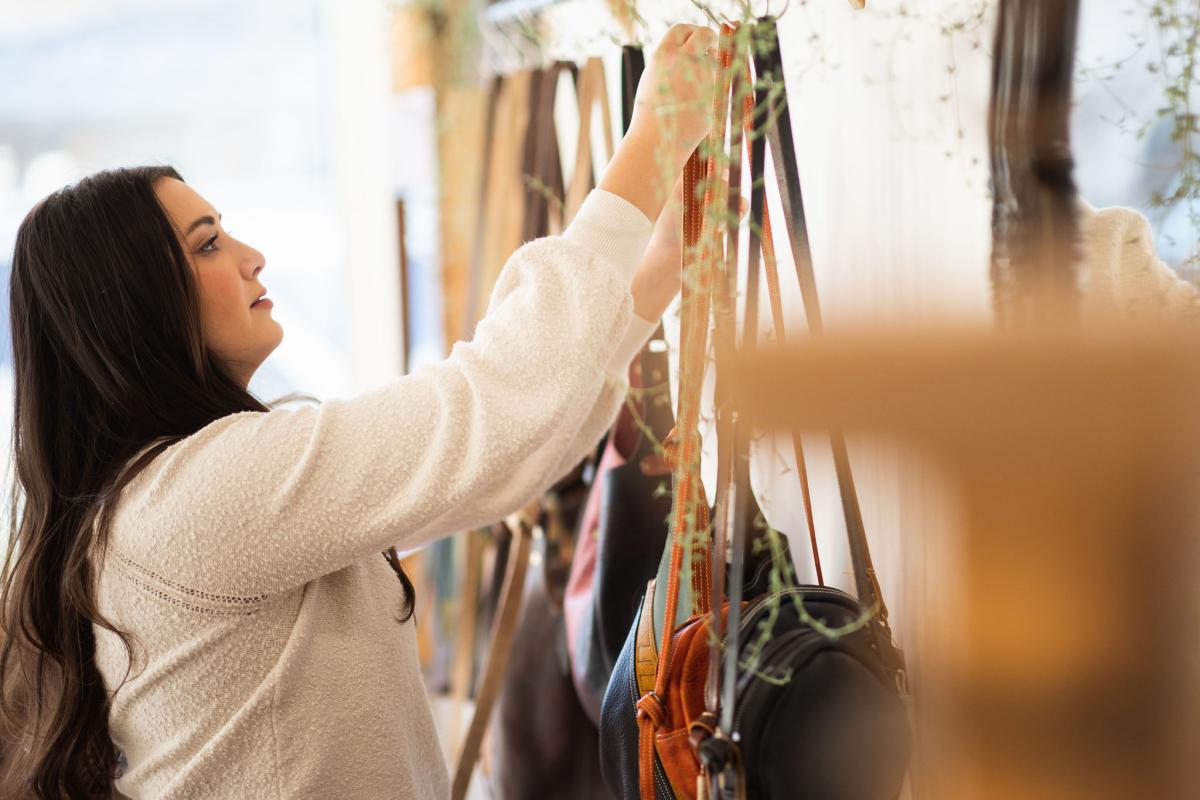 Photo credit: Acacia Productions
Shop local
Around here, "shopping local" is easy. With so many incredible independently owned businesses to check out across SLO CAL, there's never a need to head to the big box stores. Check out downtown San Luis Obispo's own eco-friendly shops like HumanKind Fair Trade and Eco Bambino, which boasts a selection of natural children's products. In Paso Robles and SLO, The General Store features locally made artisanal snacks and home goods, including charcuterie from Atascadero's Emporio Alle-Pia local olive oil and natural wines from across the region. Tip: There are always sustainable shopping options when shopping our SLO CAL Crafted certified businesses for locally made artisan goods. 
Natural Adventures
How does SLO CAL's garden grow? Very well, indeed, if we do say so ourselves. See for yourself when you tour through SLO CAL's lovely community garden spaces. Downtown San Luis Obispo is home to several community gardens (be sure to check out the grounds at Broad Street, Laurel Lane and Emerson Park). You can also meander freely through Madonna Inn's Secret Garden, which features manicured flower beds and a scenic pond. The Monarch Butterfly Grove in Pismo Beach is a great place to catch these ethereal insects in full flight (more than 10,000 butterflies migrate to this locale annually, escaping cold weather in favor of SLO CAL's temperate skies). The Nipomo Native Garden is a sight to behold: Stroll the twelve-acre site brimming with botanical floral and fauna native to the Nipomo Mesa and dunes complex.
Farm Tours
Spy an up-close look at SLO CAL's spouting superstars with a local farm tour. Whether you make your own herb garden at ClearWater Color Nursery in Los Osos, observe the playful goats of Stepladder Creamery in Cambria or pick apples at SLO Creek Farms in See Canyon, there's amazing agricultural experiences at your fingertips. The SLO County Farm Trail by FARMstead ED reveals acres of sustainably planted land from Kiler Ridge Olive Farm in Paso Robles to the Luffa Farm in Nipomo (where—you guessed it—they grow natural Luffa sponges). Tip: The kiddos will love Avila Valley Barn in Avila Beach, home to friendly farm animals, produce and fresh baked pies. Depending on the time of year, you might even be in for a tractor ride.
Treasured treks
A special place awaits. SLO CAL's State Parks and Beaches are some of the most sought-after destinations in the world. Come see why. These protected parks are just as nature intended them to be: untouched by the march of time. Unobstructed views of the ocean and a scenic, rocky shore make San Simeon State Park—one of the oldest in the California State Park System—a superb stop. Cayucos State Beach is known for its historic fishing pier and uncrowded beach and water sports (many folks enjoy surfing or boogie boarding). Tide pools teeming with life, horseback rides along the sand and fiery sunsets await at Montana de Oro State Park in Los Osos, one of the most spectacular natural sites in SLO CAL Tip: Wherever you roam, be sure to pick up any food waste or trash you see. Let's keep SLO CAL beautiful so every generation can get the chance to revel in the wonder.
Get involved
Be part of the change. The Highway 1 Discovery Route Stewardship Travel for Good program encourages travelers to take part in preserving SLO CAL's most stunning coastal treasures. Sure, you can hike the Fiscalini Ranch Preserve in Cambria, but why not go further with a walk to identify mushrooms with a mycologist? Yes, a day surfing and sunbathing on Cayucos State Beach offers fun in the sun, but how about buddying up with a clean-up beach crew before you play? A visit to the Port San Luis Light Station inspires a sense of wonder, but why not kayak into a secret beach with a guide before hiking up to the lighthouse? When you explore SLO CAL shoulder-to-shoulder with local nature lovers, you'll truly immerse yourself in this remarkable landscape we call home. Even just planning your trip to SLO can make an impact. With the City of San Luis Obispo's "Keys for Trees" program, each time you stay at a San Luis Obispo hotel, a portion of your room charge goes to planting trees around town. Fun Fact: If you're staying in a vacation rental for more than a weekend, remember to drop any leftover food waste into the city-provided green bin. Why? Well, that soon-to-be compost actually helps power the city! That's right. Your leftovers will take a trip to San Luis Obispo's own anaerobic digestion facility, where the naturally occurring methane released from your food scraps will generate city electricity. Crazy, right?